J2Ski Snow Report March 16th 2023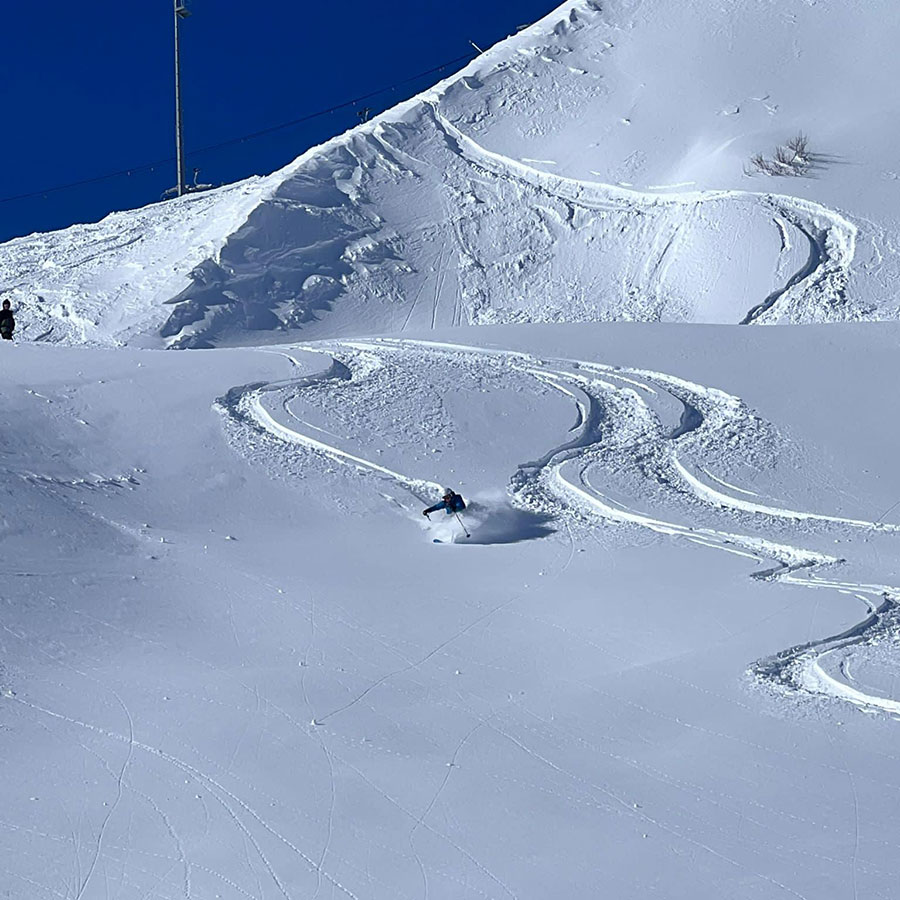 Snoworks Backcountry Course, La Plagne, France, getting the goods!
Picture courtesy of Snoworks Ski Courses - check them out!
Well what a week that was? Snow came!
The Snow Headlines - 16th March
-
Tignes
upper base depth jumps 1.1m in 7 days staying deepest in Europe, now up to 3.8m.
- 'Atmospheric River' from the Pacific brings a lot more snow to western US resorts.
- Resorts in western Alps report up to 1.5m (5 feet) of fresh snowfall.
- Considerable or High Avalanche Risk (levels 3 or 4) in the Western Alps.
- Seasonal snowfall totals pass 660" (16.5m) at some ski areas in Western US.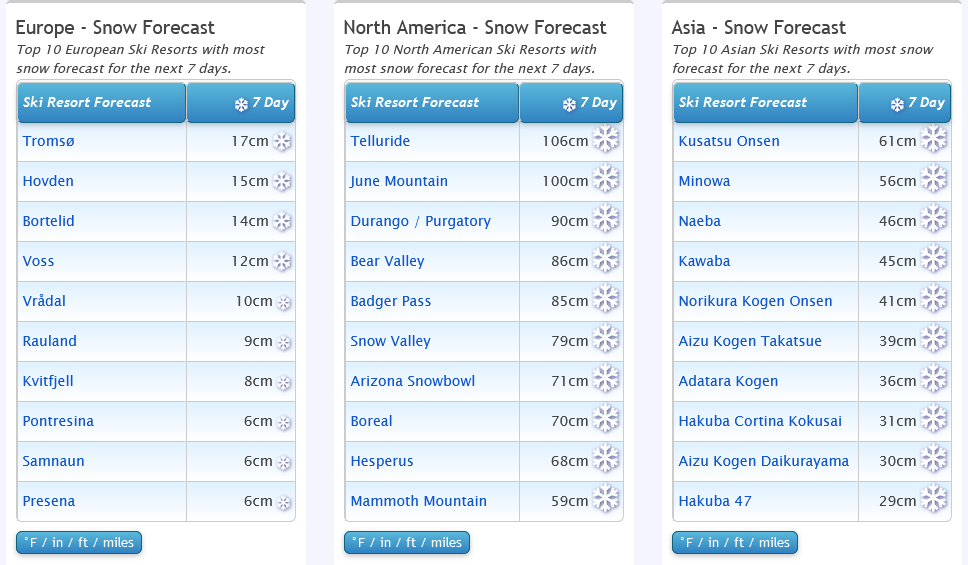 Top ups for Scandinavia, incoming for USA...
Re-publication :- our Snow Report Summary, being the text above this line, is free to re-publish, but must be clearly credited to www.J2ski.com with text including "J2Ski Snow Report" linked to this page - thank you.
World Overview
It's been quite a week in the Alps with the biggest jumps in base numbers of the 22-23 season on high slopes this year. Many spring skiing resorts have added about a third to their upper base depths and the deepest snowpack in Europe has gone up from 2.7m (which it had been for months) to 3.9m, a 1.2m (four feet) increase.
The biggest reported snowfall was 1.5 metres (five feet), but many resorts posted a metre of snow falling.
The news isn't all good though, the big jumps are above 3000m altitude and the best snow is above 2000m, with lower slopes seeing heavy wet snow or lower down rain at times; the avalanche danger has also shot up.
Elsewhere it is very warm in the Pyrenees, but there's been more snowfall in Scandinavia. The Czech and Slovak republics have seen cold snowier weather but also gales and it's been mostly dry in Bulgaria. Scotland has had cold weather and snow but not enough to improve conditions much.
Across the Atlantic there's been still more heavy snowfall in western North America, causing issues again with buried lifts and blocked access roads. More welcome snowfall in the northeast from a 'Nor'easter' off the Atlantic.
Europe
Austria
Except for some big-name resorts like
Lech
and St Anton in the
Arlberg
, which reported several feet of fresh snowfall up high, most Austrian areas rather missed out on the big weekend snowfalls that impacted further west in the Alps.
Kitzbuhel reported rain rather than snow, at the valley level at least. They were then struck another blow as valley temperatures reached +15C on Monday. But Tuesday was a better day – temperatures dropped right back and there was snowfall to low levels across the country. It's been drier since.
France
French ski resorts are in their best shape for a couple of months in most respects, following the big accumulations at the weekend and more fresh snowfall on Tuesday. In between, there was a warm weather spike with some resorts below 1500m seeing +14C. It's now turned drier and milder for the rest of this week, although not as warm as Monday, thankfully.
Higher slopes are the big beneficiaries with most French areas seeing a 50-110cm jump in upper base depths although little change down below 1500m where there's been heavy wet snow falling or rain.
Italy
Italy had a bit of a divide last weekend with huge snowfalls reported in the far west (Cervinia said 1.5m), but then after a warm Monday, there was snowfall right across the country on Tuesday with
Bormio
getting a foot of snow and some flakes as far east as the Dolomites.
Resorts in the west saw a second wave of snowfall and
La Thuile
totalled more than a metre from the two storms. It has been drier and sunnier since Wednesday though and that's expected to continue through the weekend.
Switzerland
Swiss centres have had the same big snowfalls in the west of the country as in France and western Italy, but with less to report further east.
Big winners, reporting at least half a metre of snowfall, include
Verbier
and
Zermatt
, with less snow falling further east, but none-the-less the start of the week did finally bolster bases at resorts like
Wengen
, which has had thin cover all winter, and St Moritz reported 30cm up high.
It's been warm at times though and that's how the weekend is looking, with highs of +15C at 1300m. That's probably why Zermatt has gone from a snowless village to a 50cm base at the weekend (when an avalanche blocked the rail line in/out for a time) and then back down to 15cm.
Scandinavia
Conditions remain among the best in Europe in Scandinavia. Centres including
Hemsedal
and
Trysil
have posted 15-30cm accumulations over the last few days and temperatures have stayed down close to freezing.
Floodlighting is no longer needed in most areas in the region either as longer daylight hours mean most centres can operate in the sunshine once more, many like Are in Sweden and
Levi
in Finland aiming to stay open into May.
Pyrenees
Alas, the weather in the Pyrenees is increasingly 'springlike' – in other words, warm, sunny and with the snow thawing on lower slopes. That's not a huge problem at resorts like
Soldeu
, currently hosting the World cup Finals in Andorra, but for some low-lying areas has led to early season ends this week, France's Formigueres one of those calling it a day on the season earlier than expected.
Scotland
Very cold temperatures and some snowfall has left Scotland's five centres tantalisingly close to being able to re-open terrain ...but there's not quite been enough to instigate big changes.
In the west,
Nevis Range
and
Glencoe
remain closed to skiers although the latter says it may have some high runs open at the weekend.
In the east, there's a handful of runs open at each of
Glenshee
and
The Lecht
with Cairngorm ahead with about half of its 30+ runs currently operational. More snow but yoyo-ing temperatures are forecast.
Eastern Europe
Bulgaria has been cooler than the Alps over the last few days with clouds and light snow showers. Sunnier weather and warmer temperatures should be back for the weekend though.
Further north strong winds have been a problem, with the largest area in the region, Jasna, completely closed midweek by gales. There have also been snow showers and low temperatures in the Czech and Slovak Republics and Poland.
North America
Canada
Conditions continue to be good across Canada, with fresh snow falling still on both East and West coasts but without the road-blocking, lift-burying extremes of the western US this winter.
The continent's largest resort,
Whistler Blackcomb
, has reached a 2.5m base and remains fully open, while resorts in the Rockies further inland say they've had 20-30cm in the last few days.
Marmot Basin in northern Alberta reports "pow-fect" conditions with 21cm in the past 24 hours. Over in Quebec conditions remain good too with everything open and more snow falling.
USA
Yet more huge storms have moved in off the pacific into the US west, bringing feet more snow and burying lifts, buildings and roads once again. Ski areas have been digging out and making slopes safe to re-open, thankfully with a bit of a respite now after the latest huge dump of rather wet snow.
Most centres are reporting huge bases and
Alta
has passed 660 inches of snowfall season to date (16.5 metres).
Over in the east, where the early season was much more problematic with warm temperatures, limited snowfall and periods of rain, they're celebrating a "Nor'easter" off the Atlantic bringing over a foot of fresh snowfall to ski slopes there.