J2Ski Snow Report 17th November 2022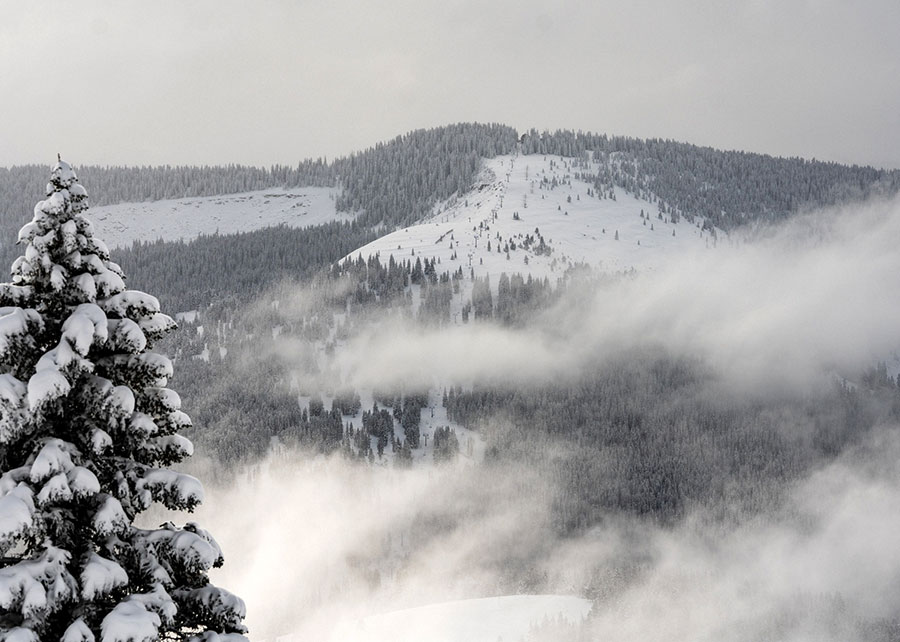 Vail, Colorado, USA got snow this week
Lots of snow and resorts opening in the US.
The Snow Headlines - 17th November
- French ski season start delayed again as
Val Thorens
moves its opening plans back a week.
- Colder (and snowy) weather reported across the Alps.
- More heavy snowfall and early opening resorts in western North America.
- Obergurgl first non-glacier ski area in Alps to open for the season.
- Ski areas in eastern North America begin opening thanks to snowmaking.
- Switzerland's
Andermatt
opens this weekend thanks to Snow Farming.
- Finland's
Levi
to host first women's Alpine World cup ski racing of 22-23 this weekend.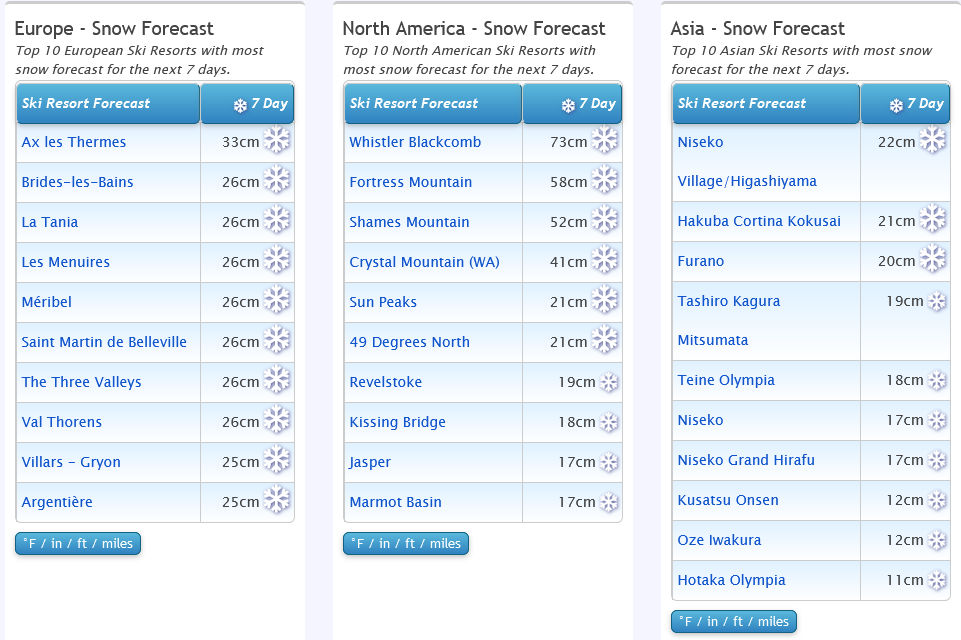 Where will it snow this week?
Re-publication :- our Snow Report Summary, being the text above this line, is free to re-publish, but must be clearly credited to www.J2ski.com with text including "J2Ski Snow Report" linked to this page - thank you.
World Overview
North America is continuing to lead the way in terms of terrain open with dozens of western ski areas now open, many doing so early for the season after reporting 3-6 feet of snowfall in the past three weeks. Now the east is starting to catch up with the first resorts opening there after temperatures dropped, snow guns went on and now snow is falling too.
Not such good news from the alps unfortunately; it's colder, there's been more fresh snow up high but the volumes are low as the main season nears and several resorts that planned to open for the season this weekend have announced delays.
More promising in Scandinavia though where its looking more like winter to low levels.
In the wider ski world Japan has been seeing its first snowfalls to low levels.
For novelty snow news – there's been still more now very late spring snowfall in Australia, less than a fortnight now from the start of meteorological summertime there.
Europe
Austria
Austria is holding its place, just about, as the European nation with the most areas open.
It had been due to be the first country to hit double figures for the season this weekend, with Kitzbuhel, Obergurgl and
Obertauern
due to open and join the seven glaciers already open, but Obertauern appear to have quietly delayed their plans.
Obergurgl opened on Thursday with a 5-20cm base, illustrating how marginal things are, but managing to get 30km of slopes available.
Hintertux
and Solden are on similar numbers for terrain open. Kitzbuhel has used snow farming so just a few kilometres there.
France
Another less than great week for French skiing alas, with Val Thorens forced to postpone their planned season start this weekend due to inadequate cover at resort level (they say there's plenty higher up but you can't ski back down to 2300m yet). The delay is hopefully just a week.
It was to have been the first area to open in France after les 2 Alpes and
Tignes
failed to open last month for glacier skiing for similar reasons.
Val d'Isere, due to open the weekend after next, has announced it won't open until the start of December.
Against these unwelcome bits of news it is looking colder and snowier at last with unsettled weather set to increase the hope of more significant snowfall through the latter half of the month.
Italy
Italy's season remains yet to fully get started, partly as it's still only mid-November, partly as ski areas have been contending with the same mostly warm and dry Autumnal conditions as the rest of the Alps.
There was healthy snowfall down to about 1700m to start the week though and another Italian area Sulden, has opened for the season, with a thin base and limited terrain. It joins the
Val Senales
glacier and that's it for now.
Cortina, which had hoped to open some high terrain in late October, is still waiting but has started snowmaking.
Switzerland
Swiss ski areas are facing the same issues as the rest of the Alps, needing much more snowfall. But it is cold and there has been a covering down to about 1800m.
Snow is in the forecast but amounts not yet certain.
New openings nonetheless, albeit with very limited terrain and mostly weekends only, include
Davos
, Andermatt,
Gstaad
(Glacier 3000) and
Verbier
. Andermatt is actually using last season's snow spread back out on the slopes of their Gemstock mountain to create a run.
Scandinavia
Increasingly wintery scenes in Scandinavia this week where, at the world's most northerly ski slopes on Norway's Northern Cape, the sun is already setting for its two months below the horizon before it re-emerges and the ski season starts in late January.
Other northerly (if not quite so far north) areas like
Ruka
and Levi in Finland are already open with Levi due to host FIS Women's World Cup Slalom races this weekend. They're currently 'on' and if they're staged will be the first women's World Cup Alpine races of the season after three planned previous races at Solden,
Zermatt
and Lech-Zurs had to be cancelled.
Two more leading Finnish areas, Levi and Pyha, are due to start their seasons this weekend. Elsewhere the Galdhopiggen summer ski area in Norway is due to end its 2022 season but there are a handful of smaller areas opening in Norway and Sweden.
North America
Canada
It continues to look like a good start to the season in Canada.
The first BC resorts including
Cypress Mountain
on the Pacific coast opened last weekend and more including Silver star at
Big White
plan to join them this.
Half a dozen Albertan ski areas are already open for several weeks with ever better conditions reported at
Lake Louise
and
Banff
. Over in the east ski resorts like Tremblant have got snowmaking underway as temperatures have dropped and some smaller centres like Sommet St Sauveur have just opened a run or two, the first for 22-23.
USA
The USA is really romping away with the start of the season with at least 50 ski areas now open across the country and it looking like the 100 mark will be passed this coming weekend.
Of the big name destination resorts in the West it has become fashionable to announce opening a few days or a few weeks (in the case of
Kirkwood
in California) early thanks to the good early snowfalls.
So
Heavenly
,
Vail
,
Winter Park
, Mammoth (posting the world's deepest snowpack) and many other have opened already, Squaw Valley,
Park City
(with the biggest ski area in the country) and others will do in the next few days.
Over in the East and Midwest it has been much colder since the weekend allowing for around the clock snowmaking and there's been a few inches of natural snowfall too so here also there's been a rush to open.
Sunday River
was among the first on Thursday this week. Available terrain is also much larger than the Alps at many centres with
Wolf Creek
in Colorado already nearly fully open.