J2Ski Snow Report 8th September 2022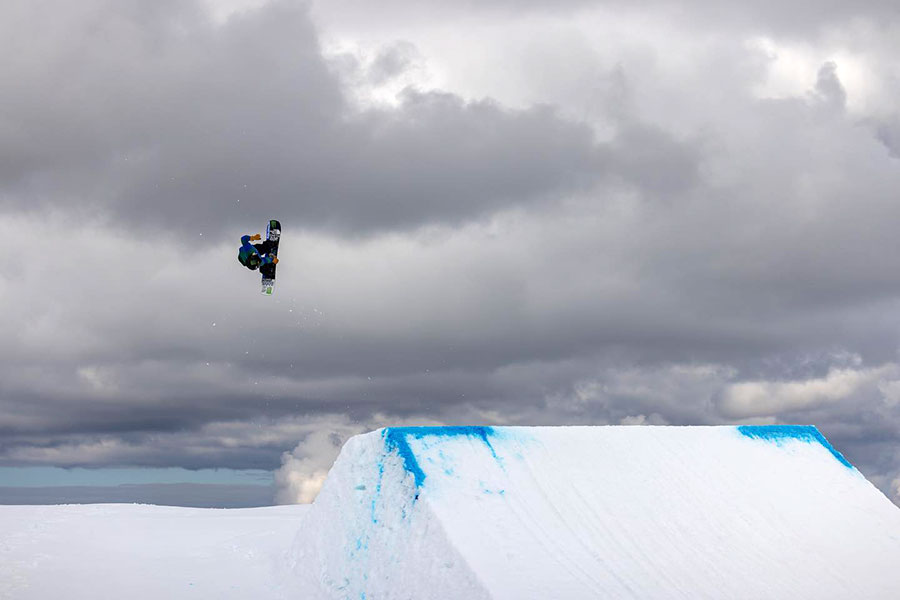 Spring is in the air in Oz, and so is Thredbo's ambassador Tess Coady...
Light snow up high in the northern hemisphere.
The Snow Headlines - 8th September
-
Rainbow
is the latest NZ ski area to end its season earlier than hoped.
- Alpine glaciers gear up to open for early autumn skiing as scheduled, with first light snowfalls reported.
- Season in the Andes winding down; most resorts closing over next three weekends.
- Less than a month until 22-23 season starts in Finland at
Levi
and
Ruka
using farmed snow.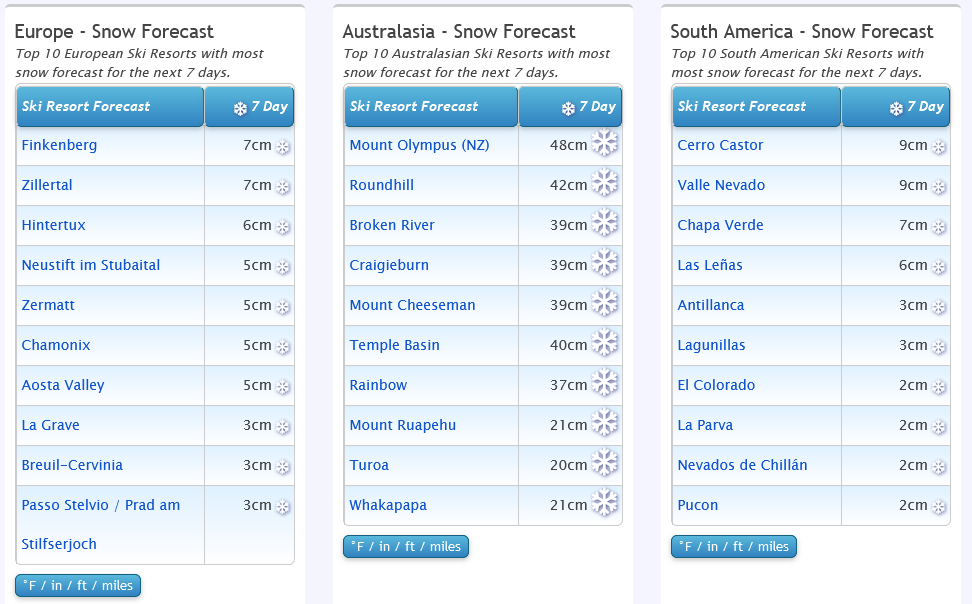 Spring snow for New Zealand...
Re-publication :- our Snow Report Summary, being the text above this line, is free to re-publish, but must be clearly credited to www.J2ski.com with text including "J2Ski Snow Report" linked to this page - thank you.
World Overview
It has been a quiet week for snowfall around the world with just light falls reported in most southern hemisphere resorts. Springtime has arrived in the Andes, Australia and New Zealand with more small areas announcing they've closed (or are closing this weekend) and the first of the big areas in Argentina and Chile saying that next week will be their last of 2022.
In the northern hemisphere, it's the reverse situation of course with meteorological autumn underway and the astronomical version of the seasons in the final fortnight of summer. There continue to be signs of cooling but only very light snow up high so far, raising nerves at centres due to open for autumn skiing this month and especially those lined up to host World Cup opening events at the end of October.
Australia
A fairly steady weather week in Australia with mostly dry conditions although there was some snowfall to start the week.
All ski areas remain more or less fully open with
Thredbo
still posting a two-metre base, the deepest in the country, whilst
Perisher
, which was posting that stat a week ago, has now dropped back to 185cm. It still has the most terrain open in the country though, around 64km (40 miles).
Most Aussie ski areas will be open to the first weekend in October.
New Zealand
This week has begun fairly well in New Zealand with ski days starting with temperatures a little below freezing and quite a lot of blue sky weather.
Mount Hutt
even reported over 20cm of fresh snowfall on Monday – Tuesday, the biggest snowfall reported anywhere in the world in the last seven days.
The good times did follow a bad end to last week though with more 130kph winds, more warmth and more rain. This has left Rainbow the latest of the smaller areas to announce it was having to close for the 2022 season earlier than they'd hoped.
Mount Hutt and
Cardrona
currently have about 90% of their terrain open and are posting the (joint) most terrain open in the country.
The Remarkables
has the country's deepest top to bottom base with 170 to 150cm lying.
Weather looks like it should stay sunny for most through the weekend with the next chance of snowfall at the start of next week.
South America
It has been another largely dry week in the Andes with the last significant snowfalls now three weeks ago for most areas, although some have had a few centimetres/an inch or two, at the start of this week.
Most remain open although we are nearing the end of the season faster here for the majority of resorts than for Australia and New Zealand. Most will close the weekend after this and almost all of the resorts by the final Sunday of September.
That said, for the final weeks, temperatures should still get below freezing overnight even if they creep up towards double figures (Celsius) by the afternoons. Most ski areas have at least two-thirds of their terrain still open, although it's noticeable that that percentage is down from a week ago and resort level snow cover getting thin at the continent's biggest area, Catedral near
Bariloche
in Argentina.
Catedral still, just about, has the most terrain open in the world and the 2.5m upper slope base depth at
Nevados de Chillán
over the border in Chile remains the deepest that anywhere is reporting.
Europe
We still have just the
Hintertux
Glacier in Austria open to the skiing public with a thin coating of machine-made snow on 6km of its glacier slopes.
Temperatures have been dipping below freezing on glaciers overnight though and not climbing high above freezing even in the afternoons so things are looking more promising for ski areas like Solden,
Val Senales
and
Pitztal
due to start their 22-23 seasons later this month as well as Saas Fee,
Zermatt
, Passo Stelvio and others aiming to re-open.
Hintertux has begun promoting its terrain park opening on September 30th anyway, with the
Stubai
announcing they are opening a fortnight later.
There have been light snowfalls in recent days which are a promising sign but we're still waiting for something more significant. Some do have all-weather snowmakers or stored 'farmed' snow from last season that may allow them to open small areas even without fresh snowfall.
It's cooler in Scandinavia too where Norway's Fonna glacier announced its summer season was over. Galdhopiggen remains open to teams though and hopes to re-open to all when conditions improve.
North America
After the early snowfalls up high in recent weeks in the Rockies and elsewhere, it has turned warmer once more so there's little sign of winter on its way this week in the mountains. But it is of course and there's a hope that ski areas in Colorado will begin snowmaking by the end of this month (that's Loveland's target at least) and begin to open next.
A report by the National Oceanic and Atmospheric Administration in the US has predicted a 'triple dip La Nina' affecting winter weather with more precipitation for most. That's not guaranteed of course but the triple dip refers to three successive winters of La Ninas and that now has a cumulative impact of a 1.2-degree dip in temperatures since 2019 which will hopefully be good news when combined with more precipitation.