J2Ski Snow Report 25th August 2022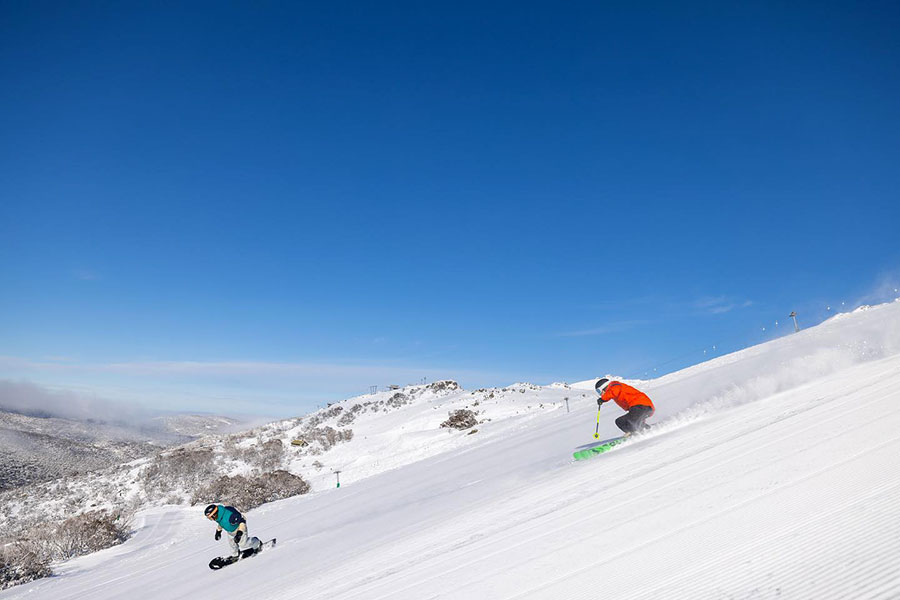 Thredbo, Australia, looking sweet yesterday...

Great conditions in Oz, a little snow elsewhere
The Snow Headlines - 25th August
- First snow of 22-23 pre-season reported on high summits in Colorado.
- Last week of the 2022 season underway in southern Africa.
- Only one outdoor ski area still open in the northern hemisphere.
- New Zealand hit by warm end to last week, but then the snow returned.
- Six weeks to opening day at
Levi
and
Ruka
in Lapland thanks to snow farming.
- Japan announces virus restrictions easing at the border.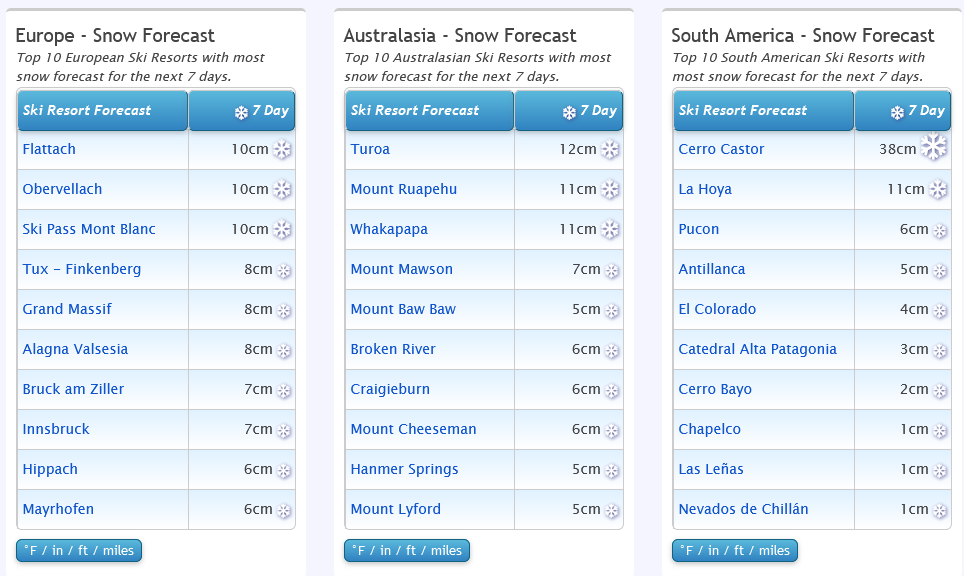 A dusting on the tops in Europe, light snow in the southern hemisphere...
Re-publication :- our Snow Report Summary, being the text above this line, is free to re-publish, but must be clearly credited to www.J2ski.com with text including "J2Ski Snow Report" linked to this page - thank you.
World Overview
Australia and the Andes probably had the best of the conditions over the past week, with repeat snowfall adding up to 50cm more to Aussie slopes and the Andes basking in beautiful conditions under blue skies following last week's big dump.
Not so good news for New Zealand alas as the warm, wet storm that blew in at the end of last week had a big negative impact on snow conditions. It has turned colder and snowier in recent days though so there is hope.
We'll be down to ski areas open in only five countries on three continents by this time next week with Africa's only currently open ski area due to end its 2022 season next week, following on from North America's last still open area at the weekend.
So the number of countries and continents offering skiing will have more or less halved compared to two months ago. Europe is currently hanging in there with only one ski area open to the public.
There are positive signs for the run-in to winter 22-23 in the northern hemisphere though, which has pretty much started with the news of snowfall dustings in Colorado last week and that it's only six weeks until the first resorts are due to open for next season in Lapland. Resorts in the Alps will be opening sooner still if there's a decent snowfall soon.
In the wider world, Japan has announced further easing to travel restrictions in place due to the pandemic, making it seem more likely that it will be possible to travel there again this winter.
Australia
It's been a good week for Australian ski areas with several snowstorms, one at the end of last week, and another at the start of this, which brought about half a metre of new snow in total to higher slopes. Coupled with this, temperatures staying below freezing and with the sun out again, it's a winning combination.
It should stay mostly dry and temperatures climb a little into the weekend. The country's largest resort,
Perisher
, reports 100 trails open and almost all 50 lifts turning. Other areas are also running at capacity.
New Zealand
The warm rain storms that hit New Zealand in the latter half of last week were a major setback, once again turning conditions on their head after a fantastic weekend and start to last week before the storm blew in.
After the storm, resorts still open like
Mount Hutt
reported reduced terrain, warm temperatures and "early spring-like conditions" but some smaller centres said the damage to the snowpack was so great they'd have to remain closed until things improved.
Fortunately, things did start to improve from Saturday as things turned back to wintery and
Cardrona
posted six inches of fresh snowfall, with other South Island centres receiving similar. Colder weather and more snowfall arrived on Wednesday although some centres remain closed. Unfortunately,
Mount Ruapehu
, home to
Turoa
and
Whakapapa
ski areas on the North Island, is having a particularly hard time with warm temperatures all winter so far and the latest hit damaging what terrain they had managed to open. They're now reporting the 2022 season as their worst in decades.
South America
The latest snowstorms to hit the Andes brought another week of powder to the slopes of Argentina and Chile, with
Portillo
reporting it had passed the 4-metres seasonal snowfall to date figure. It and most of the continent's other ski areas have been reporting their slopes 100% open and excellent conditions.
For most, there are 3-4 weeks of the 2022 season left to run although some will stay open to early October. Chile's
Nevados de Chillán
is reporting the deepest base in the world at 3.5 metres (nearly 12 feet) up top and Argentina's Catedral near
Bariloche
has the most terrain open in any one area – around 100km (63 miles) of slopes.
Africa
It's the final weekend of the 2022 season coming up in southern Africa with Lesotho's Afriski due to close on September 1st after a three-month season. It has had wintery weather almost to the end but daytime highs are now getting into double figures Celsius regularly and although overnight lows are still cold enough for snowmaking, things are definitely becoming more and more spring-like.
Europe
As the seasons change, nerves may be stretching still further in the high Alps where half-a-dozen ski areas would normally aim to open glacier runs in September but may have to delay this year until there's a big snowfall up high.
That could, of course, arrive anytime, and temperatures have been cooling, especially overnight, but we're yet to see anything too spectacular snowfall-wise.
Italy's Passo Stelvio ski area, as well as Saas Fee and
Zermatt
in Switzerland and the Galdhopiggen glacier ski area in Norway also say they'll re-open as soon as conditions allow. But for now, it remains only
Hintertux
in the Austrian Tirol as the only resort still open for summer skiing in Europe, with 6km of "very icy" runs possible thanks to snowmaking on their glacier.
Saas Fee, Galdhopiggen and a second Norwegian glacier, Fonna, are all believed to be still open to race teams for training, but not to the general public.
North America
The last area still open in North America since 2022,
Timberline
in Oregon, closed at the weekend, so we now begin the build-up to winter 22-23, potentially only two months away with the first snowmaking guns often fired up at the end of September on high slopes in Colorado.
Just to raise spirits the first snowfall on high peaks in the state was reported late last week on peaks near Alma in the Mosquito Range. It was the earliest snowfall reported in the state in four years. The thin cover had melted within 12 hours but it was enough to get ski social media excited. Since then more snow dustings have been reported at other high points in Colorado including the former ski area of Berthoud Pass Near
Winter Park
Resort.