J2Ski Snow Report 14th April 2022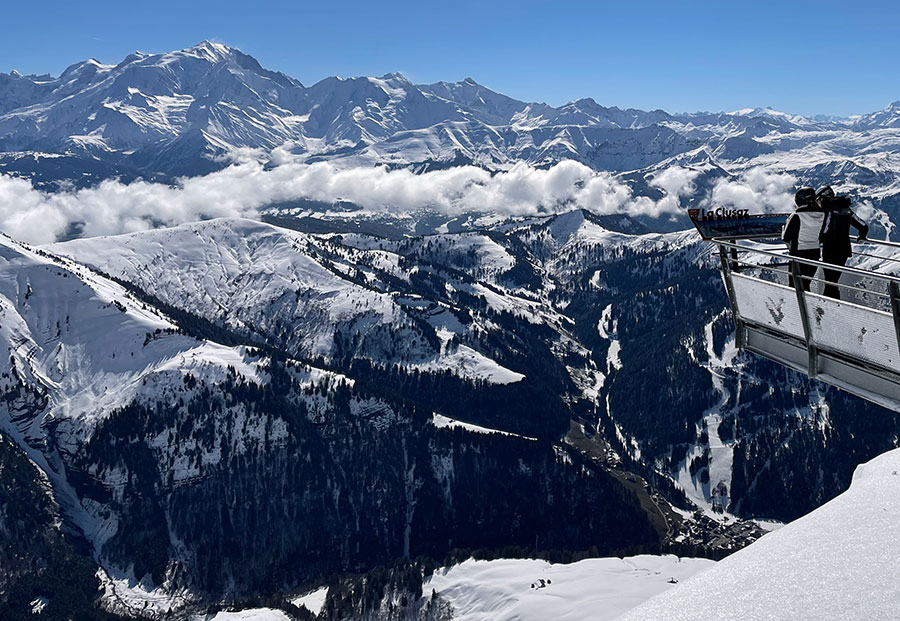 A proper bluebird powder morning at La Clusaz, France last Sunday
Powder up high, then high temps across the Alps
The Snow Headlines - 14th April
- World's deepest snowpack drops back below 5 metres.
- A second successive weekend of heavy snowfall above 1800m in the Alps (rain below)
- More big snowfalls in the Pacific Northwest.
- First snowfalls of 2022 reported at Afriski, Lesotho, Southern Africa.
- Ski areas in Scandinavia post up to 75cm of snowfall in 24 hours.
- Japan's Gassan summer ski area opens for 2022, immediately posting a nine-metre base.
- Les 2 Alpes announces plan to close then open again for snowsports in May.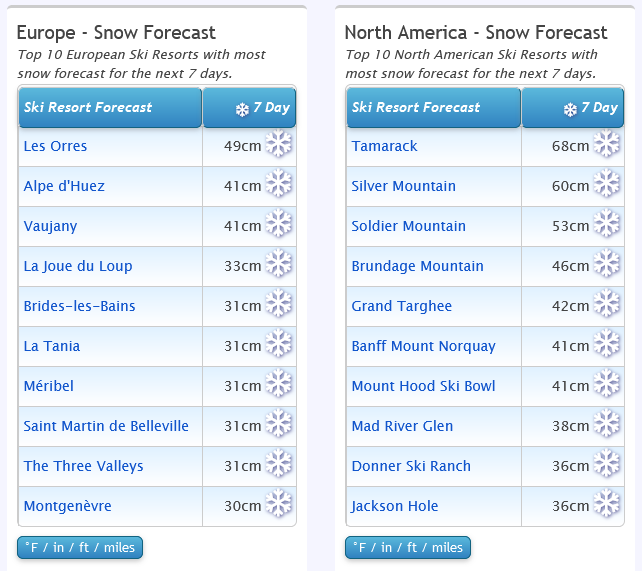 Spring snow at high altitudes for the northern hemisphere
Re-publication :- our Snow Report Summary, being the text above this line, is free to re-publish, but must be clearly credited to www.J2ski.com with text including "J2Ski Snow Report" linked to this page - thank you.
World Overview
Europe
Somewhere between 70 and 80% of ski areas in Europe have now ended their 21-22 seasons, with mostly bigger, higher ski centres staying open to Easter and into next week.
Those with higher slopes in the Alps, or at more northerly latitudes in Scandinavia, were the main beneficiaries of some decent weekend snowfalls with up to 60cm of snowfall reported (above 1800m in the alps) for the second successive weekend, and up to 75cm in 24 hours in northern Scandinavia – the biggest totals of the whole winter.
The snowfall in the Alps arrived with gale-force winds which closed some higher areas on Saturday, and lower slopes got rain, so this all led to an unstable snowpack and high avalanche danger at times. Since then though things have been largely drier and sunnier - and rather warmer - with more stable conditions for Easter weekend.
North America
Another April week of weather extremes across North America with more significant accumulations up on high slopes in the Rockies, the Sierras, the Cascades and even in high and northerly points in the Midwest and Northeast.
But there have also been gale force winds, rain and some very warm weather when and where it has not been snowing, so finding the best day to get on the slopes for a final blast of the season has been tricky.
Many ski areas have now closed but around 100 across the continent are still open for Easter weekend and a sizable chunk of those hope to make it through to later this month and more than a dozen on into May.
Europe
Austria
Austria's ski season is winding down fast now with most of the country's lower altitude ski areas closed or closing after Easter weekend.
Several dozen ski areas will continue for another week - by mid-May there'll be more glacier areas open here than in any other country.
The weekend's snow means these now have 2.5-3 metres lying on the high slopes and they have been reporting great conditions over the past week in the sunshine above the cloud.
Hintertux and Dachstein glaciers are posting the deepest bases but the others are only a few centimetres below.
France
France reported the second weekend in a row of good snowfall above around 1800m.
Some resorts actually did better than the previous weekend with
Tignes
and Val d'Isere reporting 70cm of fresh up high compared to 30cm.
La Clusaz
confirmed their reputation for late season snow with around 50cm of new snow over several days, best in the high altitude bowl of La Balme.
There's an increasing altitude divide as lower ski areas have now lost snow cover below about 1500m, although many of these resorts have now closed for the season anyway and most of those that haven't will do after the Easter weekend.
Temperatures have now climbed back up to very warm, particularly in lower valleys, although they're due to dip again over Easter with the chance of snow flurries up high to end the week. A dozen or so areas plan to continue to the end of the month with Les 2 Alpes announcing it will be closed for less than a month before re-opening at the end of May for summer skiing.
Italy
Italian ski areas have been closing down with many of the bigger areas in the Dolomites now closed and much of the Milky Way over in the west of the country too.
The country's higher areas remain open, some seeing fresh snowfall at the weekend. Cervinia, for example, is aiming to stay open to the start of May and is currently posting the largest ski area still accessible in the country (or at least
from
Italy, with a large part of the 240km/150 miles in Switzerland).
As with much of Europe, it has been largely warm, sunny and dry since Sunday with the freezing point above mountain peaks in the afternoons, dropping back down to around 1500m overnight.
Switzerland
Warm temperatures in Switzerland over the past few days, with highs of +20C reported below 1000m altitude in the valleys, +10C in the afternoons at altitude although dipping below freezing up high still overnight.
About two-thirds of the country's centres are now closed but most of the well-known resorts have at least some terrain open. A number plan to make it through to May operations with
Engelberg
, posting the deepest base in the country of 3 metres up high, aiming to get through to the final weekend of next month.
Scandinavia
Scandinavia has been a good bet over the past week with some big snowfalls and (unlike the Alps) temperatures staying close to or below freezing, at least in the more northerly half of the region. Bjorli posted the biggest snowfall of 75cm in 24 hours at the weekend, but most centres – almost all of which remain open with many continuing through to the start of May – have had a decent dump. The exception is southern Scandinavia where centres have begun closing, in some cases, including Oslo's local centre, earlier than hoped.
Pyrenees
A mostly warm and sunny week in the Pyrenees too, although there was a bit of a midweek dip with some snow on higher slopes, and rain on lower runs. Many smaller, lower areas have now closed but the biggest in Andorra and Spain will make it to this weekend, and a few like
La Molina
have announced their intention to make it through to the start of May.
Temperatures continue to climb towards 20C in the valleys, with rain more likely than snow on the slopes in coming showers.
Scotland
It looks like the season end is coming up fast in Scotland as the cold start to April has given way to warm, wet weather with the freezing point above the mountain tops.
There's a lack of official season-end announcements at the time of writing.
Glencoe
is clearly open with about 40% of its slopes on the upper mountain still skiable.
Glenshee
announced it had closed for the season a month ago.
Nevis Range
appears to have moved to summer biking operations only.
The Lecht
did have beginner terrain with its all-weather snowmaking but was posting "no information" on the status midweek and Cairngorm also seems to have reached the end of the road for its 21-22 season due to the thaw of its final cover.
Eastern Europe

It's sunny and getting warm in the daytime in south-eastern Europe with afternoon highs of +5C in the mountains, +15C down in resorts although dropping back down below freezing overnight.
The biggest area,
Bansko
, has ended its season but
Borovets
and
Vitosha
plan to re-open for the Easter weekend. It's currently looking like it could be a good one with temperatures set to dip back down and snow forecast to end the week.
North America

Canada
A bit of an East-West divide in Canada in the run-up to Easter weekend with cold weather and snow still falling in the west, but plus temps and rain in the East.
About three-quarters of Canadian areas including plenty of big-name resorts like
Big White
and
Sun Peaks
in the west are now closed but those still skiing and boarding in Alberta and BC should be able to find fresh powder this week. There's still more than a month of the season left too at
Banff
(Sunshine) and
Whistler Blackcomb
. The snow cover is more problematic in the East but the largest centre Tremblant remains open and posts the deepest snow and most terrain open there.
USA
There have been some quite significant snowfalls in the US West over the past few days. The biggest accumulations have been in the Pacific Northwest where several areas still have more than 15 feet of snow lying in Alaska (
Alyeska
) and Washington State (Mt Baker).
Resorts like
Heavenly
and Mammoth posted 6 inches of fresh in drought-stricken California, and the Rockies saw up to a foot of snowfall on Tuesday-Wednesday.
The less good news in the Northeast where the weather has turned warm and wet after a more wintery spell last weekend.
As with everywhere across the northern hemisphere, many centres have closed for the season now with many more doing so after Easter Sunday although more than 30 plan to stay open to the latter half of the month.
And that's a wrap for our weekly winter reports for this season, look out for our monthly round-ups from the 1st May!