J2Ski Snow Report 30th December 2021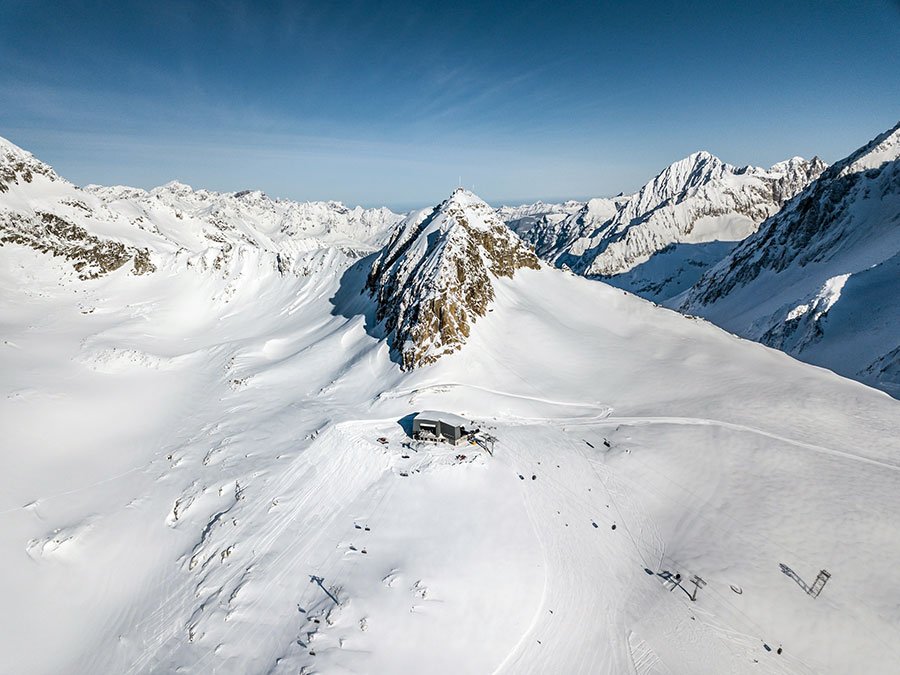 Andermatt, Switzerland, looking pretty snowy in the sun today...
Big snow for the US, sun for Europe but snow coming...
The Snow Headlines - 30th December
- Up to 11 feet (3m) of snowfall reported in second big fall in a fortnight in US West.
- Almost all northern hemisphere's ski areas open for first time in 22 months.
- Ski areas in parts of Canada closed due to 'dangerous cold'.
- World's largest ski areas in the Alps fully open for first time since March 2020.
- Ski areas open in more than 50 countries worldwide.
- World's Deepest base, in California, Passes 15 feet (4.5m) for first time in 21/22.
- Ski slopes reported crowded all over the world as people seek outdoor recreation.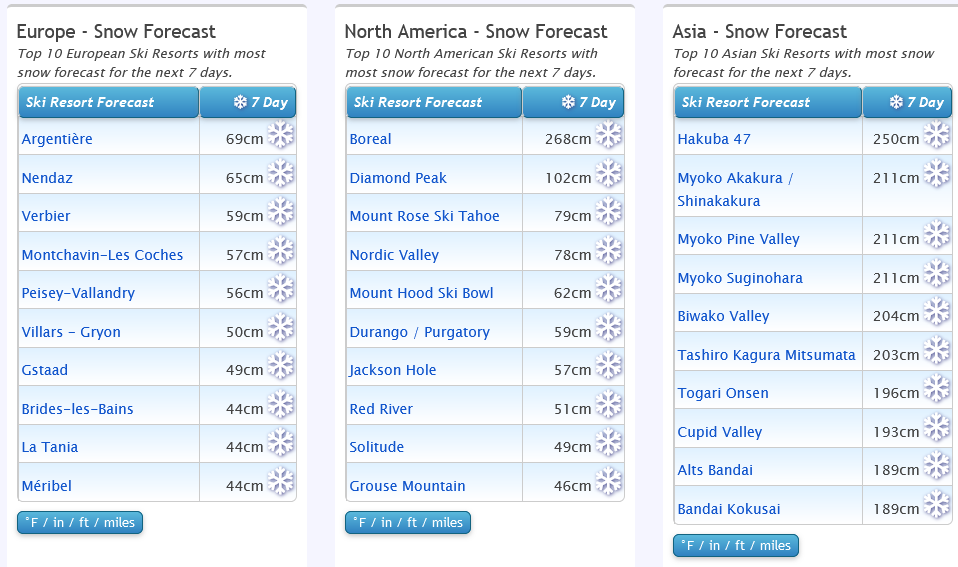 Powder time (again) in Japan, more snow for the US, and fresh on the way for Europe.
Re-publication :- our Snow Report Summary, being the text above this line, is free to re-publish, but must be clearly credited to www.J2ski.com with text including "J2Ski Snow Report" linked to this page - thank you.
World Overview
Europe
It continues to be a nervous time in Europe with the Omicron variant of COVID 19 surging now in most ski nations.
However as yet (and these things can change by the hour), all of the continent's ski nations have been holding their nerve and keeping ski areas open. Instead there are increased border restrictions for those arriving (or blocked from arriving) from the highest infection nations and stricter controls on public gatherings. So a very different mindset to a year ago when most of Europe's ski areas were closed.
Instead, Christmas week has seen the 3 Valleys offer 550km of open slopes, the biggest skiable area open since the start of March 2020. It's a similar picture for the other big ski areas. The past week has seen limited snowfall after the heavier falls earlier in December and the start of the New Year this weekend will be mild before a return to cold next week, and it remains a good start to the season for snow cover overall.
North America

North America has been the world focus for snowfall over the past week with ski areas on the West Coast reporting a second series of huge snowstorms.
Mammoth Mountain has the world's deepest base now at 4.5 metres while The Palisades reported its snowiest ever December – with 199 inches (5 metres) so far.
The snowfalls also translated into big dumps further inland for parts of the Rockies and there was some snow further east too, so it's an improving picture across the country. To the north, it has been very cold, with some snowfall.
On the one hand, these conditions have allowed ski areas across the continent to open up more terrain to meet surging demand, reported for the holiday season and further boosted by peoples' desire to get outdoors. On the other, these weather extremes have caused some issues with ski area operations. Resorts in California were closed due to blocked roads, buried lifts and extreme avalanche danger, in Western Canada because conditions were "dangerously cold" and still in the east and Midwest due to issues with warm weather and rain, although these are diminishing.
Europe
Austria
Austrian ski areas continued to report excellent conditions over most of the past week and all of the country's ski areas are now open (most fully open).
The
Arlberg
,
Silvretta
and Skiwelt regions have all been reporting over 200km of runs open for the Christmas-New Year period, but most resorts have 70-90% of their terrain open, some 100%. There's not been much fresh snowfall in the past week, although some did report a freshen up Tuesday/Wednesday and unfortunately, temperatures have been rising (meaning there's been low-level rain for some) over the past few days.
Temperatures should start to dip again at the end of a sunny New Years' weekend with more snowfall likely next week.
France
Conditions are reported to be largely excellent in France with all of the country's ski areas now open and after almost two years the world's biggest areas like Les
Portes du Soleil
and the 3 Valleys each posting at least 90% of their terrain open – more than 500km each.
Snow conditions are pretty excellent in most areas too, particularly on the groomed runs, with many resorts seeing a 15-25cm top up last weekend and Val d'Isere among those reporting another 15cm on Wednesday. The only downside really has been a rise in temperatures for the start of the New Year which means +10C at resort level for some in recent days, but up above 2000m things are mostly remaining sub-zero.
Snow is in the forecast for next week.
Italy
The Christmas period saw World Cup racing first at
Val Gardena
,
Alta
Badia and
Madonna di Campiglio
before Christmas and then the famous downhill at
Bormio
, along with a couple of super Gs this year, as the first races for the men after Christmas.
Those who watched will have seen Italy's Dominic Paris win the downhill for the sixth time. They'll also have noted the snow conditions were changeable due to the fast-rising temperatures and growing humidity at Bormio this week, the same as elsewhere in the Alps and dolomites. Despite that, (hopefully short-lived trend) conditions in Italy are the best for 22 months in that all ski areas are open and most are fully open, or nearly so.
Switzerland
Swiss ski centres are reporting excellent conditions although here too temperatures have been warm and are rising. As with the rest of the major alpine nations, most of the country's ski areas are close to fully open.
The 4 Valleys now has most of its 400km+ of runs open, the largest area wholly in Switzerland that's open, although you can ski more than 500km of runs from the Swiss side of the Portes du Soleil, where the majority of runs open are on the French side.
Scandinavia
The ski season continues to gather pace in Finland, Norway and Sweden with temperatures in the far north slightly warmer as the end of the polar-night period approaches, but still typically 10-20C below freezing.
Snow cover is not particularly deep anywhere in the region yet but nonetheless, most areas have 50-80% of their terrain open already and a 40-80cm base.
Pyrenees
The region's biggest resorts like
Grandvalira
in Andorra and Baqueira Beret in Spain are more or less fully open with over 160km (1200 miles) of slopes open.
There's been little fresh snow for three weeks and here too temperatures are unfortunately quite high at the moment but with 2-3m of snow lying that's not a huge issue. Most resorts were either completely closed or only operating on a very limited basis last season so this is very much the best for nearly two years.
Scotland
A proper 21-22 season is yet to get started in Scotland, at least in terms of there being much terrain open.
In fact, most of the country's ski centres have managed to open limited terrain, thanks to cold and snow in the first half of December and more recently, their all-weather snowmaking machine. But unfortunately what's currently open is limited to 100 metres or so of runs at most at best.
The picture isn't being helped by a return to milder temperatures this week.
Eastern Europe

It's a good start to the season in eastern Europe thanks to some big mid-December snowfalls.
The snow is already lying over a metre deep at the region's leading resorts like
Bansko
, Jasna and
Pamporovo
, at least on upper slopes. The Christmas week has seen a mixed bag of weather with some strong winds and rain at low levels at times, but overall it's a positive picture.
North America
Canada
Arguably the biggest skiing news of the week in Canada has been the very low temperatures, which are of course not unusual for the country but perhaps have arrived slightly early this winter. Lows dropping below -30C saw some ski areas, including those around
Banff
, close for several days due to the 'dangerous cold'.
On the upside, resorts like
Red Mountain
and Whistler in the south and west of the region that had been battling unseasonably warm temperatures and rain rather than snow are at least now cold enough. Indeed,
Whistler Blackcomb
can now claim its rightful place of having the most terrain open in North America, with over 80% of its runs open, more than 220 trails.
In the East an improving picture too. Here a lot of areas still only have 30-60% of their runs open after a warm, wet Fall, but it is cold and some centres have had 15-30cm of fresh snow in the past week. With snowmaking-friendly conditions at last too things are looking much better.
USA
The big snow news for North America came on the continent's West Coast where a second series of huge storms off the Pacific in as many weeks brought massive dumps of snow to California from the end of last week to the start of this.
With strong winds, high avalanche danger and poor visibility, a number of ski areas in the region had to mostly or fully shut down for several days.
Now they've largely re-opened to fabulous conditions.
Although most excessive in California, there have been good snowfalls (typically 1-4 feet over the past 7 days), at ski areas across the West.
Mount Baker
in Washington state was challenging ski areas in the French Pyrenees for the 'deepest base in the world' title at around 3.5 metres (12 feet) after Christmas (although it has now been overtaken by Californian areas).
It's a much-improved picture in the Rockies, at least in some parts (four feet this week for
Crested Butte
). Other areas like
Park City
are still struggling to obtain enough cover to open at least half their terrain.
Further east it's also still a mixed picture with some fresh snowfall and consistently low temperatures but there's still a battle underway to regain early-season losses and open everything up.