J2Ski Snow Report 25th March 2021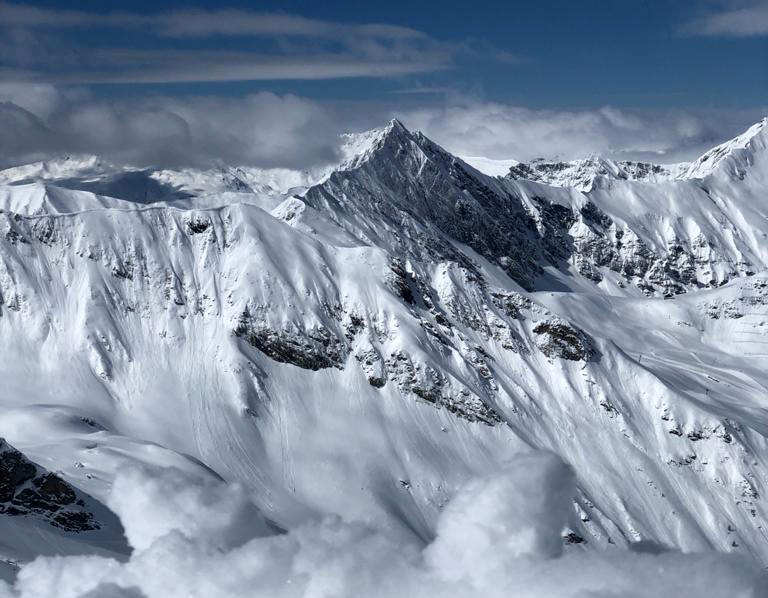 Hintertux, Austria with fresh snow this week...
Snow in the Alps and America.
The mountains are waiting for us... be patient, stay safe and follow your local advice and rules on travel.
The Snow Headlines - 25th March
- Deepest base in the Alps reaches 6 metres (20 feet).
- Snow in the Andes, 3 months ahead of 2021 southern hemisphere ski season.
-
Hintertux
glacier - open year-round - first in Austria to pass 4-metre base mark.
- Europe briefly overtakes North America for world's deepest base.
- Heavy snowfall in Balkans and Turkey.
After the heavy snowfall in the Alps of a week ago, ski areas, at least those that are still open, have been enjoying fresh snow under predominantly sunny skies. The avalanche danger has decreased somewhat and some resorts have actually increased the terrain they have available.
It is a very mixed picture though; against easing of restrictions in some countries, some, including France and Italy, have gone the other way and intensified restrictions still further, making any hope of an end-of-season ski for those living locally even less likely. It is also coming up to the 'natural' end of the season for lower-lying areas, even without the pandemic, and some are just giving up on 20-21 a little earlier than they would have anyway.
There has been more fresh snowfall in Europe over the past seven days; with Austrian areas reporting snowfall, some big accumulations down in the Balkans and fresh snow in the Pyrenees. The deepest base in Switzerland (and Europe) has finally hit 6 metres (20 feet); in Austria it is at four metres.
Over in North America, there's been a loosening of restrictions, albeit mostly small details like people being allowed to travel further to the slopes, as the number of people vaccinated passes 100 million. There's also been fresh snow, heaviest in the West.
In the Alpine Forecast
After snowfall at altitude, for some locations, this weekend clear and warmer weather will bring a distinct feel of spring to most of the alpine area.

Some weekend powder on the cards for Whistler...
Re-publication :- our Snow Report Summary, being the text above this line, is free to re-publish, but must be clearly credited to www.J2ski.com with text including "J2Ski Snow Report" linked to this page - thank you.
Europe
Austria
After the heavy snow in the Alps last week there were some glorious sunny days in Austria over the weekend and at the start of this week. At the same time, the snow has kept falling, on and off, at some resorts and most of the snow this week has been at Austrian areas.
As a result, the year-round ski area of Hintertux has become the first in the country to pass the 4 metres base mark this season - hopefully good news for late spring, summer and autumn skiing.
The other Austrian areas with bases three metres or more deep are also glaciers including the
Kitzsteinhorn
above
Kaprun
near
Zell am See
.
Austrian resorts continue to be open to local skiers only with no hotels open.
The Vorarlberg province is currently experimenting with opening gastronomy and non-essential shops to see how that goes, with a view to the wider easing of restrictions across Austria after easter if things look good. But an increasing number of Austrian centres are giving up for winter 20-21 now anyway.
France
French ski lifts remain closed and there seems little hope now of re-opening this winter. Most would be winding down for the season now of course although the season usually continues to early May at resorts like
Chamonix
,
Tignes
and
Val Thorens
in a normal season.
About half of the country's resorts continue to operate, however, without ski lifts running, with ski touring and cross country skiing more popular than usual. Conditions are excellent after a big snowfall last week was followed by cold, sunny weather and a lowering avalanche danger.
Italy
Italian ski areas all remain closed through March with a new lockdown underway.
The country's ski areas missed the bigger part of the snowfall last week and it has been predominantly sunny across the county over the last seven days. It's been cold though, generally below freezing even in the valleys, and as low as -20C up above 3,000m, so not much of a spring thaw in Italy yet.
Although most Italian ski areas say they will not open for the season now even if the rules allow them to, Cervinia issued a statement on Tuesday saying it will open in April if permitted.
Switzerland
Switzerland continues to have the closest season to a normal winter in western Europe; if you don't expect to see many non-Swiss guests in a resort and many facilities open in a resort that is.
Most ski centres remain open and there has been some easing of restrictions to allow more shops to open and some outdoor dining.
As to the snow, after the big falls that ended a week ago, it has been a much sunnier picture, although some resorts have posted 5-15cm accumulations, including
Engelberg
, the only resort in Europe, and one of only two worldwide, to be reporting a 6m(+) base.
Most Swiss resorts are open and planning to stay open at least to Easter. The 4 Valleys, with about 75%/300km of runs open, is believed to be the largest area open in Europe still, as it has been all winter, although all 175km of runs on the Swiss side of the
Portes du Soleil
remain open.
Scandinavia
Skistar, the leading Scandinavian ski area operator, has given some insight into how ski areas are operating by saying it has had a fairly good season at its Swedish resorts, pandemic limitations permitting, but a much more challenging one at its Norwegian centres where restrictions have been stricter, including for travel in, which is all but impossible.
But whilst it has closed its one Austrian ski area, St Johann, its Scandinavian centres continue to operate with most looking likely to see out the season to the start of May.
This last week has seen more light to moderate snowfall for many areas, cool temperatures and sometimes strong winds but snow depths are not what they were last year, the deepest up at Riksgransen in the Swedish arctic is just under two metres, half what it was a year ago.
Pyrenees
There remain only a small number of ski areas open in the Pyrenees, but they do include many of the region's biggest centres - Andorra's GrandValira and Spain's Baqueira Beret for example.
The good news on the Spanish side has been a slight easing of travel restrictions meaning more people can travel from a little further afield to the slopes. That in turn has allowed ski areas to open a little more terrain, although all still have less than half their slopes open due to the still very limited demand.
Baqueira Beret says it plans to more than double the amount of terrain it has open - to 90km - for the Easter period. The further good news this week though is some fresh snow; quite a lot in fact at the weekend with up to 40cm reported.
Scotland
It's still not quite clear what's happening with Scottish ski centres - whether they'll be allowed to open earlier than April 26th or not.
Restrictions were eased by the Scottish government on shops and indoor facilities but ski areas appear to have been left off the list of places allowed to re-open sooner than expected.
With warm weather for much of the past week starting to seriously eat into the remainder of the historic snow accumulation from January and February anyway the date may be academic. It looks like there won't be much snow left by April.
Eastern Europe
Bulgaria has entered a period of increased restrictions after easing them at the start of March and seeing infection levels climb again.
There was a fear that ski areas would close but at the weekend all confirmed they would be open, with
Bansko
and
Borovets
saying they intended to continue to operate to at least mid-April. This was good news for those able to get to the slopes there as it has been a cold and unusually snowy week for the start of spring down at this latitude with some heavy snowfall and great conditions.
North America
Canada
Fairly cold and fairly snowy still in Western Canada as we enter springtime. Whistler remains fully open - the biggest ski area in North America of course - and there is still two months of the season left to run here. It's been a mixture of sunshine and snow showers, the biggest of these on the west coast but with some snow to top up cover in Eastern BC and Alberta too. More dry and sunny in the East, with a cold start to the week but getting in to plus temps as we head to the weekend.
USA
More snowfall on the US West Coast at the weekend, with up to 50cm reported by resorts in California - and smaller snowfalls in many other parts of the country.
It has been warming up though, particularly in the North East of the country where resorts in states like Vermont reported highs of +15C at their bases earlier this week.
All in all though things are looking pretty good for spring skiing across the US and there has even been a slight easing of some pandemic restrictions in terms of travel limitations as the country passes 100 million vaccinations.