J2Ski Snow Report 18th February 2021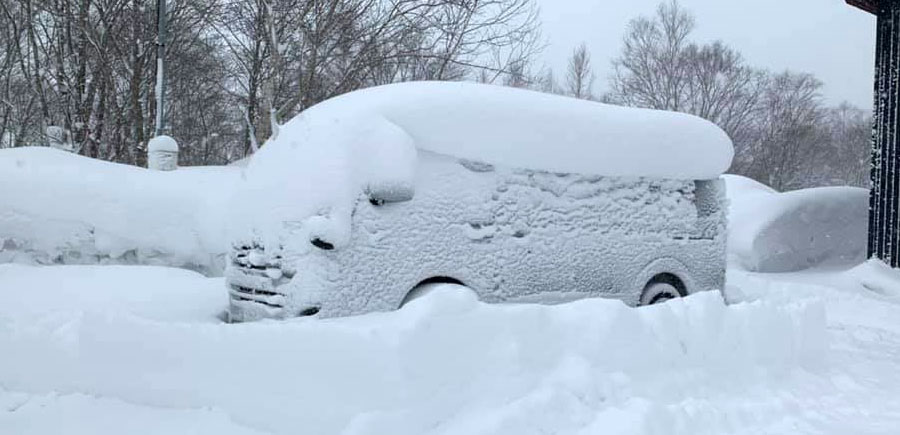 Niseko, Japan, got 60cm in the village this week...
Good skiing, but cold weather, excess snow and virus all cause closures!
The mountains are waiting for us... be patient, stay safe and follow your local advice and rules on travel.
The Snow Headlines - 18th February
- Italy's ski season almost starts - cancelled by government hours before lifts due to open.
- Ski areas in Utah close due to extreme avalanche danger.
- St. Anton and Solden shut down skiing after Tirol and Austria tighten rules further.
- World's deepest snow base this season pushes through 5-metre barrier.
- Most German ski areas won't have a 20-21 ski season.
- Ski areas in Alberta closed for most of last week by extreme cold.
- Scotland sees its "best in a decade" cold spell end, warmer weather returns.
- Ski areas in
Ontario
, the only North American region closed by the pandemic, re-open.
There are great conditions across most ski slopes, with lots of snow lying almost everywhere now, in the ski areas of Europe, North America and Asia.
Europe's week has not been one of the snowiest, with ski areas seeing 10-30cm of snowfall in total at best, but with generally cold temperatures and sunny skies those lucky enough to be able to legally hit their local slopes have been reporting fabulous conditions to make most of the rest of the world jealous.
The heaviest snowfall of the past seven days has been in Japan and the North-western corner of North America where some resorts are now reporting 5 metre (15 foot) base depths.
Sadly there's been (yet) more bad news from Europe with Italy's ski resorts (expected to re-open from last Monday) being told at the eleventh hour by their government they could not.
Austria's Tirol region has also brought in more rules, including a requirement for a negative virus test certificate issued within the preceding 48 hours, before you hit the slopes. Random checks are promised to ensure compliance. Austria also says hotels are staying shut now to at least Easter.
It was also announced late last week that Germany's pandemic lockdown was extending into March - to the 7th at least - which led several resorts there to say they definitely won't be opening this winter. Most usually end their seasons in late March normally so it just won't be worth it. The high Zugspitze glacier remains hopeful of some final months or weeks of operation as it can stay open to late spring.
In the Alpine Forecast
Warm and sunny in the Alps this week, before a return to more seasonal temperatures (and snow) toward the end of the month.

Japan in the firing line, again...
Re-publication :- our Snow Report Summary, being the text above this line, is free to re-publish, but must be clearly credited to www.J2ski.com with text including "J2Ski Snow Report" linked to this page - thank you.
Europe
Austria
Austria continues to have most of its ski areas open, just for locally based skiers.
There have been concerns about rising virus numbers and a rumour that ski areas would require skiers to provide a recent negative test result before they could hit the slopes which left resorts in Salzburgerland and Tirol furiously denying that was the case late last week (until the rule came in this week).
Snow and skiing conditions have been fairly idyllic the past week with sunny days and good conditions. Some areas have only limited terrain open due to the limited number of people permitted to visit but the Skiwelt said they had 150km of runs open this week - about two-thirds of its total.
The further restriction on operations in Austria, mentioned in our introduction, has led both St Anton and Solden to announce they are shutting down their ski slopes until further notice. Other areas say they'll stay open for the time being but keep an eye on things and reserve the right to close if skier numbers drop still further.
France
This should, of course, be one of the busiest times of the French ski season with resorts normally packed with French, British and other school holidaymakers. In fact, French families can still go and stay in a resort in most cases and a kind of ski school lesson is also on offer for the kids, but the lifts remain closed and are now due to remain so for at least another fortnight.
Ski and snow conditions have been excellent this past week for those lucky enough to be able to live in an area where its safe and permitted to visit the resorts. The past week has been predominantly dry, cold and sunny. Base depths in the Northern Alps are very good in most areas, with the snow lying 2-3 metres deep at most well-known ski areas, so the late-season does look good if (1) resorts can open (2) people can travel to them.
Italy
Frustratingly for Italian ski areas, resorts like
Livigno
which expected to open for the season at last on Monday morning were told by the Italian government late on Sunday that, actually, this wouldn't be permitted - despite months of planning for safe operations during the pandemic and recent weeks of being told they would be able to open so long as the region they were in remained in the low 'yellow' tier.
Of the main ski regions, only Trentino and South Tyrol were in the orange tier and knew they wouldn't be able to open. The latest lockdown extension is to March 5th. Conditions have been excellent on Italian ski slopes with good cover, low temperatures and in recent days sunny weather - as those watching the second week of the Cortina World Championships have been able to see through the TV screen.
Switzerland
Swiss ski areas remain the exception in Europe with slopes open and hotels too, although there are plenty of pandemic operating limitations in place and reports from Swiss ski area indicate there are very few tourists there.
Snow conditions look great with most areas reporting 5-25cm of fresh snow in the last few days, some of the biggest ski areas in Europe currently open and the deepest bases on the continent too (480cm/16 feet at
Engelberg
tops the depth table).
Scandinavia
Things are looking pretty good in Scandinavia with temperatures remaining subzero and some fresh snowfall to keep slopes in good condition.
Unlike most European ski nations more or less all centres are open in Norway, Sweden and Finland and almost everyone now has all their slopes open and lifts running too. Travel restrictions are in place making international travel to each nation all but impossible though.
Pyrenees and Spain
No fresh snow to report in the Pyrenees but conditions remain good, although what's open at the ski areas that are open in Andorra and Spain remains pretty limited, due to limited demand with only local people able to ski there still.
French ski slopes remain closed.
There's mixed pandemic news from Spain -
Sierra Nevada
in the south say they're opening to a wider area, all of Andalucia in fact, but contrarily, several ski areas run by the
Aramon
Company, including
Cerler
,
Formigal
and
Panticosa
, none of which have opened this season yet due to the pandemic, have now confirmed on Tuesday this week that they won't be opening this season.
Scotland
As it felt inevitable that Scottish ski areas would have one of their snowiest seasons in decades just when they weren't permitted to open, so it seems typically ironic that as the hope of re-opening draws closer (as cases fall), so the long spell of cold snowy weather appears to draw to a close with this week seeing a return to more usual windy, sometimes rather warm (+5 TO +10C) conditions which commonly cause a meltdown of Scottish snow cover. Hopefully, though, the big bases that have built up will survive, especially on higher slopes where temperatures are closer to freezing.
Eastern Europe
It's been snowy in Europe's south-eastern corner after a warm-weather blip. Mainstream news reported snow in Athens but Bulgaria's ski slopes have also had a good 10-30cm top-up after seeing temperatures of +15 Celcius a week ago. So things are looking good again there, they say, with fresh cover and pretty much everything open.
North America
Canada
The two main bits of news from Canada are first that it has been cold, very cold, in the west - particular around the Alberta/BC border, and ski areas there including
Marmot Basin
near
Jasper
and Sunshine near
Banff
ended up closed up to four days last week because of it, for safety reasons.
Ski areas in Ontario in the East, which had been the only region of North America where the provincial government had closed the lifts due to the pandemic, have now been allowed to re-open, since Tuesday.
Otherwise, the news in terms of conditions is generally good - not a lot of fresh snowfall in the past week (although looking snowy now in the West) but nearly everything open, good snow depths and fresh conditions.
USA
Pretty good conditions in most parts of the US at present with low temperatures keeping the snow quality good. The biggest falls in the last seven days - two to three feet (60-90cm) totals - were reported in Utah (
Alta
), Wyoming (Jackson Hole) and in Washington State which remains the only place on the planet with several ski areas posting bases of more than 5 metres.
Unfortunately, there have been a spate of deaths reported in avalanches, tree wells and even one involving a collision with a tree.
Smaller falls elsewhere hoping to keep cover fresh in all the main ski regions. Alta and neighbouring snowbird were both closed on Tuesday by the extreme avalanche danger there.