J2Ski Snow Report 24th December 2020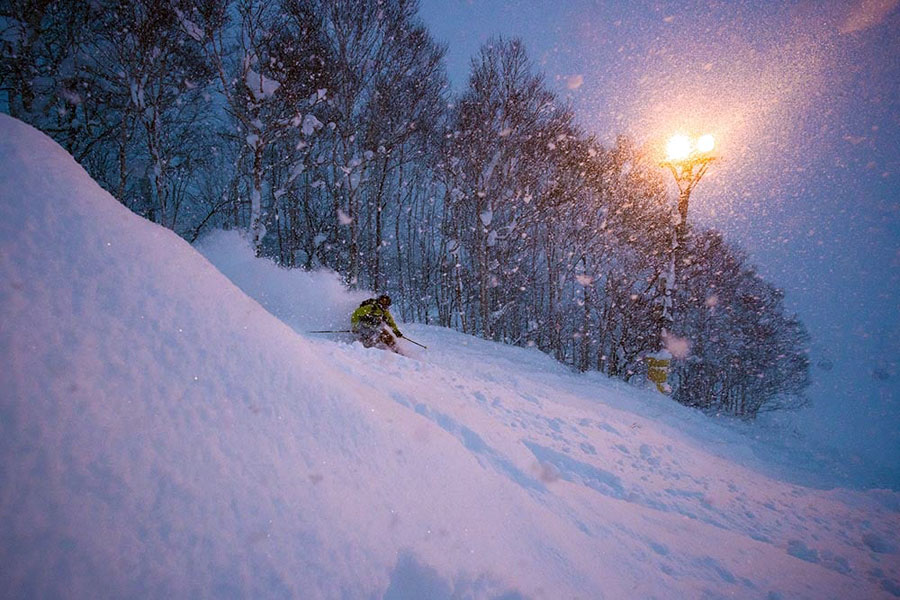 Skiing powder until 8pm at Niseko, Japan!
Merry Christmas from J2Ski!
The mountains are waiting for us... please stay safe and follow local advice on travel. We can't all go skiing just yet but we can dream!
The Snow Headlines - 24th December
- Fresh snowfall across the US improves conditions in many areas.
- Bulgaria's ski season underway.
- Snow depths pass 4-metre mark in western Canada - world's deepest to date.
- Swiss ski areas stay open (mostly), Austrian resorts open to locals from today (Christmas Eve).
- Scottish ski season starts with little natural snow and a three-week lockdown.
- Big snowfall in Japan.
- Covid clusters found in two Canadian resorts.
After months of debate between resorts and countries as to which ski areas would open for the usually busy Christmas and new year periods, with governments changing their minds repeatedly in the days and weeks before, we're finally here and know what is happening (mostly!).
Many of the northern hemisphere's ski areas are open this week; several thousand of them. Most are open in Scandinavia, Austria, Switzerland, Scotland, Eastern Europe, North America and across Asia - all with strict pandemic limitations in place.
Germany and Italy are in full lockdown with no ski areas open, and in France ski resorts are open but the lifts aren't running; people who want to hike up can ski down. In Spain most resorts are open, whilst in Andorra the ski lifts are currently closed.
As to the snow cover; that's similarly varied and complicated. However, most areas have a fairly good cover now but many are battling temperatures warmer than they'd like, as well as the pandemic. Upper slope conditions are good across most of Europe - only Scotland and South-Eastern Europe seem to be suffering. In North America, the hardest-hit areas from a warm wet autumn (the Northeast of the continent) have seen colder, snowier weather improving things.
The biggest snowfalls of the last seven days, however, have been recorded in Japan where some areas have had over three metres (10 feet) of snowfall in the last seven days, back to the good old days after last winter's record warm temperatures and lack of snowfall, so positive news there at least.
In the Alpine Forecast
Some heavy snowfall for much of the Alps now in the forecast for the last week of the year.

Snow heading for Europe and Japan...
Re-publication :- our Snow Report Summary, being the text above this line, is free to re-publish, but must be clearly credited to www.J2ski.com with text including "J2Ski Snow Report" linked to this page - thank you.
Europe
Austria
Austrian ski resorts are opening as we publish this week's report.
Judging by the social media posts over the past few weeks the anticipation is huge and it looks like hundreds of ski areas will all be opening at once across the country on Christmas Eve, Thursday 24th December, though a few (Heiligenblut for example) say their season will start on December 25th and others Boxing Day.
A few centres up on the German border say they don't plan to open until it is easier/allowed for Germans to come into Austria to ski – which it's hoped will be after 7th January when Austrian resorts are due to open to international tourists. Snow conditions look good if the pictures are anything to go by, especially on higher slopes. It has been snowing again in recent days and it is due to snow more over Christmas weekend. Some of the bigger resorts say snow depths are up at three metres (ten feet) on some glaciers – much deeper than when they closed in early November.
France
French ski resorts are now "open" following the ending of full lockdown restrictions but the ski lifts remain closed and initial reports indicated Christmas visitor numbers are down 80-90% at most areas.
The snow cover is reported to be good, especially at altitude, and
Val Thorens
was hosting World Cup ski cross races earlier this week. People are heading out ski touring in the mountains with some resorts actually grooming runs for descents for those who want groomed pistes, others are running Magic carpet lifts for nursery slope areas for children.
There is snow forecast over Christmas and resorts hope the season will start (or resume, in Tignes' case), on January 7th – although the way things are going few people are taking that date as a certainty.
Italy
The ski racing world's eyes have been on Italy's ski slopes over the past week with World Cup races taking place in
Alta
Badia,
Madonna di Campiglio
and
Val Gardena
.
For Italians though, as for the rest of the world, the only place to see people skiing Italian slopes right now is on TV, with the country in full lockdown until, hopefully, January 7th. There's been little fresh snowfall this week, but conditions continue to look good for when slopes are allowed to reopen – hopefully now just a fortnight away - and there is snow in the forecast.
Switzerland
Swiss centres have been on a bit of a knife-edge as to whether they can open or not over Christmas following the latest federal government announcements on Friday which largely leaves the decision up to individual cantons but says it should be down to infection rates and virus 'R' reproduction rates.
Ski areas in Valais seem fairly confident that allows them to stay open but in Graubunden, another canton housing several leading Swiss areas, the decision - taken on Monday - was more marginal and is being reviewed daily.
Among the measures that have allowed areas to stay open is a ban on alcohol sales and a closure of slopes where accidents are deemed more likely – the thinking being that would limit hospital admissions.
Andermatt
, in the canton of Uri, has been closed by its regional government, although much of the ski area lies over the canton border (accessed from
Sedrun
) so a big chunk of the ski area is still open, just not accessible from Andermatt.
All that said, most Swiss areas are now open, reporting depths of up to 3m (10 feet) on upper slopes. There has been some fresh snow too although conditions remain better on higher runs and more snowfall would be welcome.
Verbier
noted it had poor snow on lower slopes at the start of the week, closing some runs.
Scandinavia
Scandinavian ski areas report that it has often been too warm through the autumn, and early season conditions in many areas aren't that great. Most are now open for the season though, although the vast majority have only a foot or so of snow lying and perhaps a third of their terrain open for Christmas.
Norway's
Hemsedal
has more impressive stats with nearly a metre of snow depth and about 75% of its runs skiable.
Pyrenees and Spain
There are very few ski areas open in the Pyrenees at present with the ski lifts in France and Andorra closed until January and only a few centres open in Spain.
Spanish resorts open include two of the country's largest, Baqueira Beret and
Sierra Nevada
, which are both operating about a fifth of their terrain under strict virus restrictions. There was some fresh snowfall at the weekend too.
Scotland
Scottish ski slopes opened last Saturday just as the country's leader Nicola Sturgeon was announcing a three-week lockdown from this Saturday, 26th December.
The centres are interpreting this differently with Cairngorm deciding to close from Christmas Eve through the new lockdown but
Glencoe
and the Lecht saying they'll be staying open, for locals only, which is allowed under 'Tier 4' which all of the Scotland mainland will be under, they believe.
Glenshee
is yet to announce its plans as we issue this. As it is there has been inadequate natural snowfall for full runs to open but four of the Highland centres (Glencoe, Glenshee,
The Lecht
and Cairngorm) do have small areas open for teaching/snow fun made with their all-weather snow-making machines. More snowfall should arrive this coming weekend.
Eastern Europe
The 20-21 season is gathering pace in Eastern Europe with ski areas now open in more than a dozen countries in the region. The biggest resort, Bulgaria's
Bansko
, opened last weekend with fairly good conditions and several feet (60cm) of snow cover on the top of the mountain but warm temperatures and no snow cover in resort.
Another of Bulgaria's best-known areas,
Borovets
, said it won't be open for skiing over Christmas due to lack of snow cover.
North America
Canada
Canada is where it is all happening. They've had the heaviest snowfall (outside of Japan) in the past week, and claim the deepest snow depth in the world, with
Kicking Horse
in British Columbia reporting 4m (13.3 feet) base depth after more than two feet (60cm) of snowfall there.
Unfortunately, Alberta and BC, which has strict limits on non-essential travel, is also where the ski world's virus flare-ups have been reported among staff at
Big White
in BC (70+ staff) and
Nakiska
in Alberta (15+ staff). Both resorts remain open. Quebec in the East has had a poor start to the season with warm, wet weather in November and the start of this month but the past week has been colder and snowier and more resorts have opened there now.
USA
Things have been looking much snowier across the USA over the past week. Ski areas in the West, in the Rockies and in the Northeast have all reported fresh snowfall this past week, as much as two feet (60cm).
Most of the country's ski areas are now open and the fresh snow has allowed those that are to add more terrain.
With limited numbers allowed on the mountains due to COVID restrictions though, many leading resorts have reported tickets sold out over the Christmas and New Year weeks. Avalanche danger is also reported to be high in the Rockies due to the odd mix of warm weather suddenly giving way to heavy snowfall and sadly there have been two separate avalanche incidents leading to three deaths of backcountry skiers in Colorado.
We'll be back next week with our final round-up of the year...