J2Ski Snow Report 1st September 2020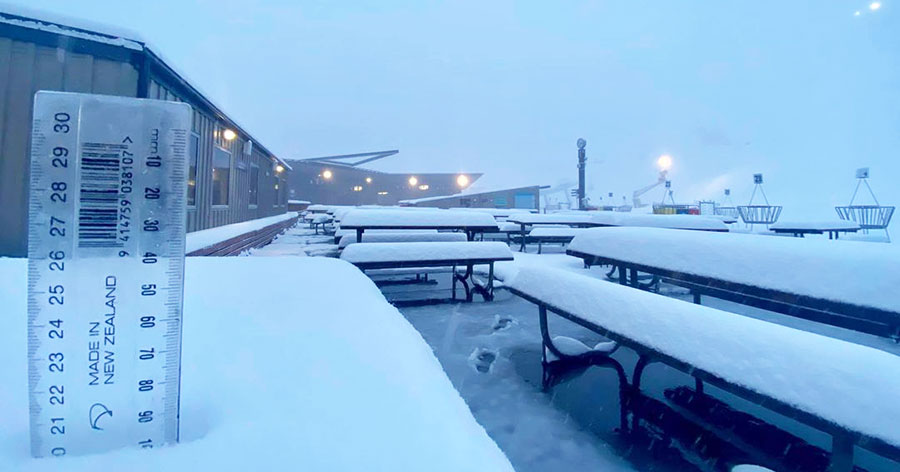 Coronet Peak, New Zealand, just got a decent bit of snow...
Summer draws to a close with snow high in the Alps, NZ and the Andes!
The mountains are waiting for us... stay safe and follow your local authority's advice on travel. We can't all go skiing just yet but we can start planning!
The Snow Headlines - 1st September
- Snowfall to end meteorological summer in the Alps and Pyrenees.
- Several ski areas in Chile finally open for 2020, for locals only.
- European mountain resorts report busy summer.
- Only 4 ski areas open in the Alps to start September; probably 10+ by month-end.
- North American heat ends summer ski season early.
- Snow-farming European resorts ready to open for 2020-21 from end of this month.
- South Africa the first country to miss out on a ski season - closed for 2020.
- No lift-served skiing in France or the USA planned for September.
Although only six glacier resorts are open in Europe as we start September, this is the month when we can start to get excited about the season ahead.
In the latter half of the month more glacier areas will open, particularly in Austria, and we get back in to double figures. There have just been several early snowfalls high in the Alps, in the final weekend of August.
This year, of course, there's the worry as to what will open and when, due to the virus. Though we wouldn't want to tempt fate, the good news is that so far we've only heard of one small Swiss area with a particular set of circumstance that says it won't be viable to open this winter. All the main resorts appear to be planning to open as normal, albeit under 'new normal' operating restrictions.
We hear that many alpine resorts have had busy summer seasons and - encouragingly - have been able to successfully operate lifts, hotels, shops etc. with safety measures (distancing and cleaning) in place. Apres-ski won't be the same, but the resorts are confident they can get us up the mountains if we can get there!
We'll bring you more on the resort's preparations next month.
September Skiing
What we won't see in September is any lift-served outdoor skiing in France or the USA.
Tignes
has given up on its "we're open at least a day every month of the year" schedule and won't even try to open until mid-October (which was about when it did open the past few autumns). In the US,
Timberline
ski area in Oregon has been beaten by the heat there and closed at the end of August rather than staying open into September as hoped. Both countries do have indoor snow centres open though.
In the southern hemisphere, September marks the final full month of the ski season although some of the larger, more snowsure centres are open into early October and a few even November.
Thanks to the virus, 2020 has been quite a bizarre winter so far but as we start September about two-thirds of the 100 or so ski areas south of the equator have managed to open for at least some of the season (albeit as little as three days for some). Chile and South Africa have been the hardest hit countries of the six with ski lifts and South Africa's Tiffindell hasn't had a season at all whilst in Chile, only a few areas have, recently, finally opened for the season, for local skiers.
In the other three countries, most areas have opened, although in Australia, the
Victoria
n ski resorts have closed again. In Argentina, most areas started their seasons last month, but for locally based skiers only. In New Zealand, almost all areas have opened but spent much of August with restrictions in place after the virus reappeared after more than three months with no cases.

Late season snow incoming for New Zealand...
Re-publication :- our Snow Report Summary, being the text above this line, is free to re-publish, but must be clearly credited to www.J2ski.com with text including "J2Ski Snow Report" linked to this page - thank you.
EUROPEAN ALPS
The start of September is one of those quiet periods in the Alps when most summer ski glacier areas have ended their summer openings but the autumn glaciers have not yet begun their run-ins to the following winter.
So we are left with the world's two year-round areas,
Zermatt
and
Hintertux
, as well as
Saas-Fee
which opened in mid-July and normally now stays open through to the end of the winter season. Zermatt's summer-skiing can also be accessed until the end of September from Cervinia on the Italian side of the border.
The fourth option is Italy's Passo Stelvio which has the longest summer-ski season, usually six-months from early May to the end of October, but delayed a month by the pandemic this year.
August saw some significant high-altitude snowfalls with ski areas in Austria reporting several falls, the biggest of which delivered up to 25cm in 24 hours. The last weekend of the month saw bigger accumulations in the Western Alps, and the first snowfalls on high slopes in the Pyrenees.
The last still-open ski area in France, Les 2 Alpes, closed on that last weekend of August as the snow fell. It is worth noting that it made it through to the latest planned opening date this year when in several recent seasons it had to close earlier than planned (as did several other glacier areas) as the summer heat melted the snow cover. It's been hot again but the snow already on the glacier was enough to see it through.
Tignes expects to open in early October for its 2020-21 run if conditions are good enough.
The number of open areas in the Alps should begin to climb in the latter half of September with half-a-dozen ski areas in Austria expected to open as normal. Among them Solden,
Stubai
, Molltal and the country's highest slopes on
Pitztal
. Italy's
Val Senales
glacier normally opens by mid-September too.
Northern Europe & Scandinavia
Two of Norway's summer glacier areas, Fonna and Galdhopppigen, are still open. The latter stays open right through to November most years, Fonna until mid-September. Both have a few kilometres of trails open as usual. Fonna is still reporting a four-metre base depth on its upper slopes, down about 10 metres from the huge numbers it reported as it prepared to open in April and May but still the most snow of any open area in the world (some closed ski areas in Chile may have more).
Two of the larger ski areas in Finland,
Levi
and
Ruka
, will be preparing to open as this month ends. Both have been stockpiling snow through the summer by the process known as 'snow farming' and both intend to have the snow spread back out on the slopes in time to open on Friday, October 2nd. Norway's
Kvitfjell
will use the same technique to open even earlier, at the end of this month, but for race team training initially, not recreational skiing.
North America
It was a very hot August in North America, particularly the west of the continent where huge forest fires burned in California and other states and Death Valley reported earth's highest recorded temperature yet.
That's not good news for the snow of course and Timberline ski area in Oregon which had planned to stay open to the Labor Day long-weekend public holiday in the US on Monday, September 7th closed the last Sunday of august instead, not quite making it.
It had been the only ski area still open in North America so now there's nowhere open at present and barring some freak heavy snowstorm (which has happened in September before) that's likely to continue to be the case through September before the annual race to be the first in the US to open, usually in the latter half of October, gets underway.
One of the annual contenders, Loveland two-miles up in the Colorado Rockies, has a countdown clock going to the hoped-for start-of-snowmaking at the end of the month if it's cold enough.
Asia
There's nowhere open in Asia at present except for indoor snow centres. Some small areas in Japan usually open in October using all-weather snow-making equipment.
Southern Hemisphere
2020 will probably be a season to forget for most ski areas in the southern hemisphere, largely due to the pandemic, but, in the end, at least some ski areas have opened in almost every country south of the equator with ski lifts.
September is normally the last full month of the southern hemisphere's season in a normal year, so things are nearing their end for 2020 anyway.
"Almost every country" opened resorts but one, South Africa, skipped on its 2020 season at its sole ski resort, Tiffindell, which never managed to open. Afriski in Lesotho has now ended its 2020 winter, having been the first to start in the southern hemisphere back in early June. With no visitors coming through the closed South African border it looks like they had a very quiet season.
Better news in South America where most ski areas in Argentina had finally opened by the middle of last month, followed by several in Chile in the last few weeks of August. All are operating under very strict pandemic-spread prevention measures, generally for season-pass holders living locally only.
It has been quite a snowy winter in the Andes and back in late June and early July there were reports that some areas in Chile had five metres of snow lying, the most for 15 years, which then led some to say that if they did open they had enough snow to last until November a month later than usual. So far though the very late start to the season there and the high cost to income ratio of re-opening has led to only two areas,
El Colorado
and
La Parva
, re-opening. They've posted pictures of plenty of powder at present but report base depths of only 30-80cm.
The pandemic has also been causing problems in August at the southern hemisphere's other two ski nations- Australia and New Zealand.
In Australia the fresh lockdown of the state of Victoria has left only
Perisher
,
Charlotte Pass
and
Thredbo
open in New South Wales over the border. That was particularly galling in the penultimate week of August when a huge five-day snowstorm up from Antarctica deposited up to a metre of snow on the mountains giving sensational powder conditions last week.
Victoria is due to review its lockdown on September 13th, and if restrictions are eased Mt Buller and Mt Baw Baw say they hope to re-open for the final weeks of the season but
Vail
resorts have said the two areas they own in the state,
Falls Creek
and Mt
Hotham
, won't now re-open until 2021 whatever the decision.
New Zealand had a bit of a nasty shock with the virus reappearing in mid-August after more than 100 days with no cases. That led to the reintroduction of the country's Level 2 restrictions – essentially the same social-distancing, limited-numbers and increased hygiene measures that are now the norm in almost all other ski countries. These were last seen in New Zealand before the start of the season in June so this was the first time they'd had to be enforced on the slopes.
New Zealand's ski areas are otherwise largely open. With a month to go, it has not been the coldest or snowiest of winters on the whole and some smaller 'club fields' have struggled to open at all complaining of 'warm conditions and wet snow' when it fell but on the whole, almost all have some terrain open and most of the commercial field are almost fully open as we start September.
We'll be back next month with an update on how ski areas are preparing for the "new normal" season ahead...