J2Ski Snow Report 1st May 2020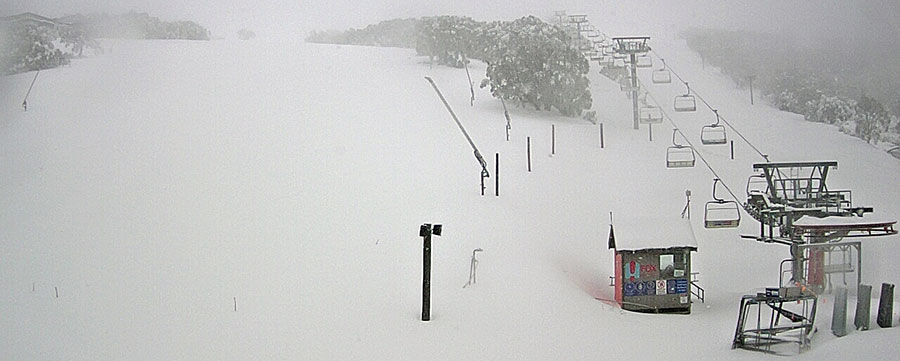 It's snowing! Mount Buller, Australia this morning...
May arrives with fresh snow in Europe and the southern hemisphere.
The mountains are waiting for us... in the meantime, stay safe and well and follow your local authority's advice on travel. Take care!
The Snow Headlines - 1st May
- Norwegian glacier area with 12m+ base opening for 2020 season from May 1st.
- Fresh snowfall in Australia, New Zealand, Southern Africa and the Andes.
- One US area re-opens and summer ski area aims to open at the end of May.
- Japan's ski season ends early.
- Ski touring allowed in Austria from May 1st, mountain lifts open from the 29th.
Writing a snow report in the middle of a global lockdown when almost all of the world's ski areas are closed is quite a challenge in some ways, but easy in others!
The challenge is finding ski areas that are still open - or likely to open - in May, which is always the quietest month in the skiing year anyway. Most northern hemisphere areas are closed, including those that normally re-open for glacier skiing in summer, whilst the southern hemisphere's ski season isn't due to start for another month.
It has also proved a challenge not to upset a few people! The skiing world (and the wider world) seems to be divided into those who think any talk of the world continuing, that someone, somewhere might be able to ski, is wrong at the present time, whilst others think the opposite is true and it's good to stay positive.
Where it is not so much of a challenge is that whilst the human race is in lockdown, the world carries on; the weather continues, the snow is still falling (albeit thawing fast in most of the northern hemisphere). So we can write about that - whilst completely accepting that, for now, we stay home and plan for the future as travel is currently out of the question.
All that being said, April was another strange month for skiing, as in all other respects. There were (in the skiing world, if you are in that second group of people who like to hear of apparently positive signs), some good things. Small local ski hills were allowed to re-open in the Czech Republic and Norway under strict operating limitations, and Austria decided to allow ski touring to resume in May (whilst advising people not to do it as it's too dangerous right now and doubly irresponsible in a pandemic).
In terms of larger ski areas re-opening there's interesting news from Jasna, the leading ski area in Slovakia, which has announced it will reopen for summer operations from May 1st. It runs cable cars, gondolas and 4 and 6 seater chairlifts but says it will have strict limits (20-30 capacity max in cabins/on chairs unless family members or similar) in place. Lift queues will also be spaced with two-metre gaps between people.
Not such good news from Japan though which, a few weeks ago, had looked like it would be where most resorts would be open at the start of May. Here, sadly, a second wave of the pandemic led to the closure of most of the still-open ski centres in the country around April 20/21st (they'd planned to say open to around May 7th).
North America and most of the rest of Europe remains in lockdown (although with most lockdowns now being eased a little with more to come in May if the pandemic doesn't surge).
In the southern hemisphere ski areas are preparing for the 2020 season start in June/July, not fully knowing if it will be allowed to re-start by then. That said, there are increasingly positive signs, particularly from New Zealand, where some ski centres have already re-opened for summer activities.
Anyway, staying positive, April ended with the number of ski areas open back into double digits having dropped to around five during the penultimate week of last month with the news from Japan. But Norway has seen more than half-a-dozen areas open now, which, along with still open Swedish ski areas and at least one re-opened US resort gets us up to double digits.

Snow coming in for Australia and New Zealand...
Re-publication :- our Snow Report Summary, being the text above this line, is free to re-publish, but must be clearly credited to www.J2ski.com with text including "J2Ski Snow Report" linked to this page - thank you.
EUROPEAN ALPS
There was fresh snow in the Alps and Pyrenees to end April, after a generally warm and sunny month for most areas, with snow falling to quite low levels around April 28th-29th and 10cm or more in 24 hours up high on glaciers.
As we all know most of Europe remains in lockdown, it's mid-springtime and 98% of ski areas would be closed by now anyway – for some, mostly at northerly latitudes or with skiing to high altitude, the first few days of May would have been the last of the season. An even smaller group would have continued operating later into May, and some June or July or beyond.
Hintertux
and
Zermatt
should be open every day of the year, weather permitting, in normal times and they may well be the first to re-open, at some point this summer.
Austria
Austria became the first of the big ski nations to ease the lockdown - as of May 1st - with the country's deputy premier announcing ski touring would be allowed again but asking skiers to go to easier slopes where they're less likely to be injured and require medical help.
On 29th April the country announced that ski lifts would be allowed to run again from the 29th May, potentially meaning ski resorts could re-open. As this piece is being unwritten, none of the ski areas that could re-open (Hintertux,
Stubai
and others) have said they will. When contacted by J2Ski most said they were still deciding.
Schladming says it will open for summer operations on the 29th. Whilst not specifying if that included using ski lifts it posted pictures of mountain bikers riding up in gondolas, giving the impression that's the plan, presumably with social-distancing and limited numbers in mind like Jasna.
France
The lockdown in France, where three areas (Les 2 Alpes,
Tignes
and Val d'Isere) were hoping to operate summer skiing from June has been extended to May 11th. The postponement of the Tour de France to September there makes summer skiing seem less likely at present but on the other hand, several ski areas including Val d'Isere, one of the country's three summer glacier ski options in a normal year, have made pretty firm statements that they're opening for summer operations around July 4 or 5 – a few weeks later than previously announced.
Other French summer ski centres contacted by J2Ski say they're busy looking at ways to open with social distancing in place, and want to do so, if permitted and safe, but that there are logistical issues.
Italy
Italy's situation is similar to that of France, with nothing certain but the potential for some limited summer openings.
Switzerland
Switzerland is making faster moves to come out of lockdown than most other ski nations, although with a different approach to the order of re-opening. Zermatt would be the most likely area to re-open, if/when it can, as it normally aims to open its glacier slopes every day of the year, weather permitting.
Northern Europe
Scandinavia has been the centre of the 'active' skiing world for the past six or seven weeks and that continues to be the case.
Norway went into an early lockdown and closed its resorts mid-March along with most of the rest of Europe. Finland and Sweden soldiered on to the end of the month before Finnish areas closed en-masse.
Most, but not all, Swedish centres closed in early April; Bjorkliden and Riksgransen are still open in the far north.
Riksgransen has posted its best snow base for more than 20 years (currently over five metres) and looks set to make it through to its planned closure at the end of May after a few weeks of skiing and boarding under the midnight sun (as 24-hour daylight up at its northerly latitude 250km within the Arctic Circle is now imminent).
Bjorkliden is due to make it to the first weekend of May, its planned season end date.
Meanwhile, Norway eased its lockdown after a month in mid-April and smaller ski centres have, with the permission of their local authorities and health boards, been able to re-open with restrictions in place. More than half a dozen of these have done so in the last 10 days of April, with Roldal back to the top of the 'world's deepest snowbase' list at 6 metres (20 feet).
The Fonna Summer Ski Glacier, posting a 12 metre (40 feet) base, opens for its 2020 season on May 1st and the second of the country's three glaciers, Galdhopiggen, will open mid-May; the third, Stryn, is due to join it on the last weekend of the month, to get the complete set.
Other Norwegian ski areas that have so far re-opened include Al, Haukelifjell,
Hovden
, Skarslia, Sogndal and
Voss
Myrkdalen
but as yet it's unclear how long they'll stay open into May.
It's important to remind ourselves these centres are open for Norwegian skiers living locally only, there's no suggestion people should attempt to travel to them from further afield.
North America
Media reports from the USA in the latter half of April have shown the divisions in the US between those who feel the lockdown should continue and those who think it shouldn't be there at all. This has also been the case on the ski slopes to some extent.
Although all North American areas had closed by early April, last-month saw a battle between those wanting to continue ski touring (or 'backcountry skiing' as it is more commonly known there) and those who considered such activity irresponsible. As snow and avalanche reporting agencies ceased operations the dangers grew and there were several avalanche deaths and police arrested and fined skiers and boarders heading out on closed slopes.
The last week or so of April seemed to show a slight change in attitude though with the anti-lockdown movement getting more vocal, and restrictions eased a little in some states like Colorado, Idaho and Washington State.
The biggest news was probably that
Mt Baldy
, a small ski area closest to LA in southern California, became the first resort to re-open, with strict social-distancing measure in place, and is currently selling lift tickets with timed-arrival slots right through May. This is also unusual for the area as it normally closes in mid-April die to too little snow, but it says conditions are currently, "as good as they get (at this time of year)," – which could, of course, be read in two different ways.
Other North American ski areas which open in May, June or later most years say they have not ruled out re-opening and in some cases (
Arapahoe Basin
and
Mammoth Mountain
) have said they're actively looking at ways to do so. It seems some others that may do too, if virus restrictions are eased and it is considered safe, includeg
Banff
, Sunshine and Whistler in Canada; Squaw Valley and
Heavenly
in California, Aspen in Colorado,
Snowbird
in Utah and
Timberline
in Oregon.
But time is now running short for many of these and whether they will feel it is worth re-opening for just a week or two if the opportunity arise remains to be seen.
The small Beartooth Basin summer ski area on the Montana/Wyoming border says it will re-open on May 30th.
Asia
After operating through most of the pandemic in March and the first half of April, when all other leading ski nations closed their resorts, Japanese areas finally decided to close in the latter half of April. This was despite declaring a state of emergency in February and March on the northern ski island of Hokkaido, famous for its powder. That is the resorts that were still open – many made it to the end of their normal seasons in late March.
Niseko and a few dozen others would normally stay open into early May but they did finally, and in most cases suddenly, decide to close between 15th and 20th April as the pandemic had a second wave in the country. The current state of emergency runs to 10th May but
Kagura
, which was due to stay open to May 24th, looks like it is definitely calling an end to its season. Gassan, which is open from April to July most years, says it will review its position on May 10th.
Southern Hemisphere
April saw the first snows of 2020, in what was early Autumn, on ski slopes in Argentina, Australia, Chile, Lesotho, New Zealand and South Africa – in other words on each of the six southern hemisphere ski nations.
More snowfall has been reported in the final few days of April, with rain in Australia turning to snow for the start of May.
Of course, the main talk here too is of the COVID-19 coronavirus lockdowns and how this will impact the 2020 ski season in each country. It's a mixed picture, as in the northern hemisphere but, essentially, most ski areas are preparing to open, but equally are ready not to open if not permitted to.
Then there is the middle way of opening but with operational restrictions to limit the danger of virus spread, if it is decided that's worth doing when the season start arrives in June for most areas, although some not until July.
As of the end of April, Australian and New Zealand ski areas have been pointing to positive signs of eased lockdown measures which they hope will allow them to operate at at least some level come June.
The only ski area we know definitely won't be open for winter 2020 is
Selwyn
Snowfields in Australia which is closed for a complete re-build after its lifts and other facilities were destroyed by bush fires earlier this year.
Until next month, please stay safe...