J2Ski Snow Report 30th January 2020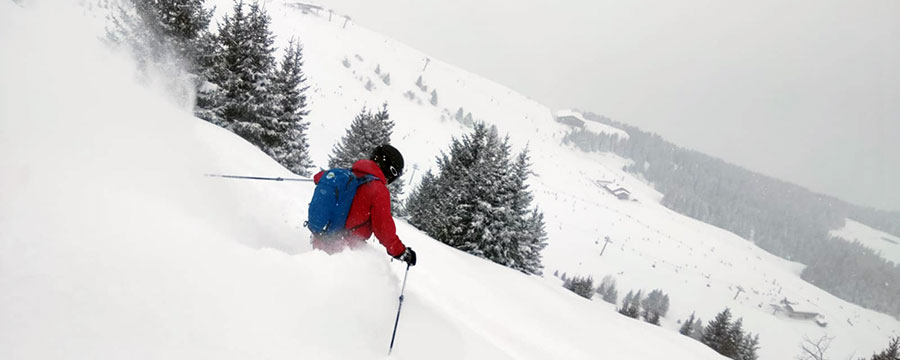 Meribel yesterday, picture (c) Tristan Benwell, Snoworks coach.
Big snowfall for The Alps, and a big one incoming for Whistler...
The Snow Headlines - 30th January
- Up to 110cm (3.7 feet) of snowfall in the Alps over 72 hours.
- Conditions transformed in the Pyrenees after heavy snowfall there last week.
- World's deepest snow depth this season hits 4.5m (15 feet) in NW USA.
- Western Scottish ski areas enjoying best conditions of the season.
- Snow depths in western Norway reach 2-metre mark for first time this season.
It's snowing hard in the Alps as we complete this week's update, so we don't quite know what the total accumulations by the time the storm blows through will be. It does look like many areas will have received 30-60cm (1-2 feet) of snowfall and some as much as 90cm (3 feet); it's the biggest snowfall in the Alps since before Christmas.
Many areas had to completely or partially close for a period as heavy snow was accompanied by very strong winds at times.
Stay safe - avalanche danger in many areas is now Considerable or High (Levels 3 and 4 of 5).
Elsewhere in Europe, the Pyrenees had a little more snow earlier this week after the huge falls last week which has dramatically improved conditions. Northwestern Scotland's slopes are in good shape heading into the weekend whilst western Norway, across the North sea, continues its trend since Christmas for regular snowfalls.
It's also now a fairly snowy picture across North America with more snow in the Rockies and good conditions now on both East and West coasts of the continent where ski areas had suffered from warm weather up to the start of the year.
In the Alpine Forecast
A mild few days ahead, with snow at altitude to the West, followed by a return to cold early next week and another band of snow building in the forecast.

Another storm is about to sweep off the Pacific and deliver to Whistler...
Re-publication :- our Snow Report Summary, being the text above this line, is free to re-publish, but must be clearly credited to www.J2ski.com with text including "J2Ski Snow Report" linked to this page - thank you.
EUROPEAN ALPS
Austria
It has been snowing heavily across most of Austria since Tuesday with the biggest reported accumulations, 45cm/18 inches, reported in the
Arlberg
region after the first 24 hours of the storm on Wednesday.
It was still snowing when we wrote this and whilst the current storm should ease through Thursday it's currently looking like the week ahead will see periods of snowfall across much of Austria.
The deepest snow remains up on the glaciers although several, including
Kaunertal
, are closed at present as strong winds are blowing up high as the snow comes in.
France
French snow depths have been heading back up towards the three-metre (ten feet) mark with the current snowstorm in the Alps.
La Rosiere on the Italian border was the first to report more than a metre of snowfall (110cm in fact) over 72 hours to Wednesday but many resorts were posting snowy images and 30-50cm totals by then too.
This follows the huge snowfalls of up to 1.5m in the French Pyrenees in the latter half of last week with another 30cm there to start this week. The conclusion of all this snow is that conditions are looking great, but the avalanche danger is also high - around Level 4 (of 5) - across much of the country.
So far Montgenevre (2.9m) reports the deepest base (at time of writing at least).
Italy
Italian resorts have, on the whole, not reported quite so much snow as ski areas in France and Switzerland. There has been snowfall though, 10-30cm so far in most areas, including the Dolomites in the East.
The exception has been the Italian ski areas close to the French and Italian borders, particularly in the
Aosta Valley
, where Cervinia and
Courmayeur
each reported 60cm (two feet) of snowfall by lunchtime Monday.
Switzerland
Andermatt has moved back up to a 4-metre base depth after 30cm (a foot) of fresh snowfall in the first 24 hours of the current snowstorm, equalling the deepest base in Europe (
Presena
glacier, Italy).
It's snowing hard across much of Switzerland and quite a lot of resorts are currently fully or partially stormbound. Ski areas in the Valais, to the West, have posted up to 85cm (nearly three feet) of fresh snow since Tuesday, so it's definitely powder time – but with elevated avalanche danger.
Scandinavia
There's no real sign of a slowdown in the snowfall in western Norway, which has been consistently snowy through the first month of 2020.
One of the two ski areas at coastal
Voss
has reached a two-metre upper slope base depth this week, very deep for this region.
It has also been snowing more widely across much of Scandinavia. There's been 15cm in the past few days at
Oslo
Vinterpark, for example, above the Norwegian capital which has been suffering a warm and wet winter so far. So that appears a step in the right direction.
Pyrenees
The heavy snowfall across the Pyrenees last week eventually led to accumulations of up to 1.5 metres, with the heaviest snowfall on the French side. This caused initial operational difficulties and high avalanche danger, but as the sun returned and pistes were made safe, some fantastic conditions. In Andorra, accumulations were more like 30-60cm but that pretty much doubled bases there and helped ensure all runs were open.
Another front brought a smaller 10-30cm snowfall at the start of this week too as an added bonus.
Scotland
It's the usual mix of snow and rain, freezing and warm weather and still conditions and gales on Scotland's slopes, although with an increasing East/West divide at present.
After warm weather to end last week fresh snow, heaviest in the West, greatly improved conditions over the past few days and
Glencoe
and
Nevis Range
both opened quite a lot of terrain as more snow fell. Wednesday saw the two stormbound though with winds too strong for lifts to operate safely.
The snow has kept falling in the meantime although temperatures are now rising, leading to fears of thawing/rain, but so far so good and the weekend – when the winds should die down – is looking promising. Less snow and more limited terrain open in the East.
Eastern Europe
Although it has stayed predominantly dry, and often too warm, at least down in the valleys, there has been some snowfall reported over the past few days at Bulgarian resorts
Bansko
and
Borovets
– one of the few natural snowfalls so far this season.
Further north in the Czech and Slovak Republics there's been some snowfall too for ski areas including Jasna and Spindleruv Mlyn.
North America
Canada
Whistler has had a month of heavy snow and now has one of the deepest bases in the country at 245cm up top, as well as all of its huge area open. The past week has seen it report the biggest seven-day accumulation in the country too with 83cm more snow.
And there's more on the way...
Further inland, conditions have been good all winter and the past week saw more snow, if not so much as for Whistler, for resorts like
Fernie
and
Revelstoke
.
In the East, which suffered at the start of the season like the Pacific West, it is now finally colder, snowier and more 'normal' so though bases are still fairly thin, most runs are now open.
USA
The Northwest US may just about have been knocked off the top of the weekly snowfall table for the first time this year by the French Pyrenees, but it still came close, with Washington State completing a full month of being "Dumped on big time".
This time Steven's Pass ski area topped the table with (another) 1.3-metre accumulation whilst "the world's snowiest resort",
Mount Baker
, got another metre and remains the holder of the "deepest base in the world at present" with 4.45 metres (almost 15 feet) of snow lying on its higher runs.
The bigger picture for the US is pretty snowy too. Resorts in the Rockies reported up to 67cm more powder this week (at
Breckenridge
) and further north in Utah almost 90cm/3 feet (
Alta
and
Snowbird
). There's also been a lot of snow in the east, where it is needed more with resorts like
Stowe
in Vermont getting more than a foot (30cm) of snowfall in recent days and reporting full-on winter conditions.
Well, what a lot of snow that was! Until next week, thanks for reading...