J2Ski Snow Report 7th November 2019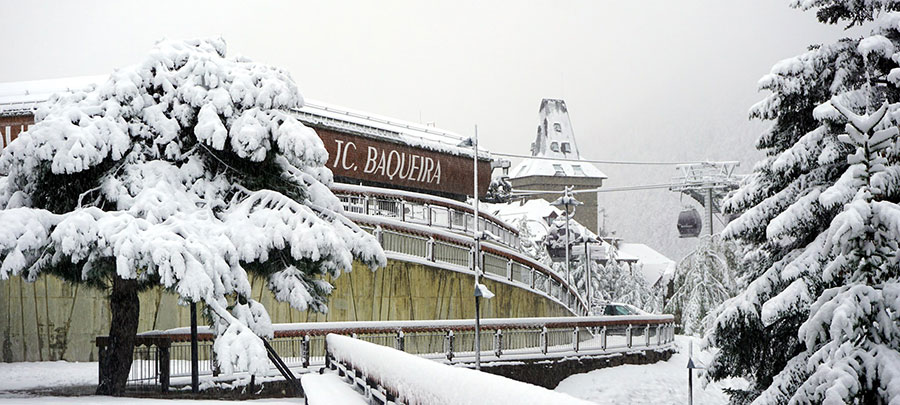 Snow in the Pyrenees, picture courtesy of Baqueira Beret...
Big snows arrived in Europe this week, with more ski areas opening in North America.
The Snow Headlines - 7th November
- Big snowfalls in the Alps, Dolomites and Pyrenees.
- Number of ski areas open in North America into double figures.
- Snowfall since Saturday over 1metre at several open Alpine glaciers.
-
Killington
is first area to open in the Eastern US.
- More than 50 ski areas in Europe and North America open by this coming weekend;
Andermatt
,
Verbier
,
Breckenridge
, Copper,
Marmot Basin
, Mammoth,
Trysil
...
There's excitement in the Alps, Dolomites and Pyrenees this week after the first major snowstorm of the Autumn transformed snow cover on higher slopes across a large swathe of Western Europe.
A big storm system that moved up Europe's west coast, named Amelie in France, deposited 30-60cm of snow on slopes at many ski areas, with totals now over a metre at some higher resorts.
Base depths have also moved beyond the metre mark on a number of European glaciers. Several had been struggling to stay open with just 20-30cm bases since the big summer thaw so this is the first time bases have really moved in the right direction for five or six months.
For the 15 or so areas already open in the Alps it has meant great powder skiing once the sun returned, and for others due to open in the next few weeks, including those without the added security of glacier slopes, it means that they're building a decent base now ahead of the season.
We don't want to count our chickens but it's continuing to look pretty good for the immediate future with more heavy snowfall in the forecast coming into the weekend.
Against that snowy scene, there haven't actually been many new openings in the past week in Europe; just a couple in Scandinavia with several Swiss areas that had previously planned to open, waiting until this snow arrived. Things should start to pick up speed from this weekend onward as more ski areas open.
There's not been much fresh snow in North America, after the record-breaking October snowfalls in the Rockies, but the number of areas open has more than tripled from five to 17. More areas are opening after the October snow in the west and temperatures are dropping to allow the first ski areas in the east and Midwest to open after some fast snow-making.
In the Alpine Forecast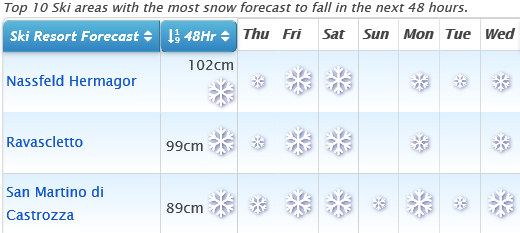 Did someone order snow for the weekend?
Temperatures forecast to stay at or below seasonal averages for the foreseeable, with heavy snow on the cards for some areas this weekend AND another major snow event shaping up for next week... keep watching J2Ski!
Re-publication :- our Snow Report Summary, being the text above this line, is free to re-publish, but must be clearly credited to www.J2ski.com with text including "J2Ski Snow Report" linked to this page - thank you.
EUROPEAN ALPS
Austria
Austria continues to have more than half of the ski areas open in the alps at present and a 10th, Turracherhohe down in Carinthia, is due to join them this weekend.
The past week has been a real mix of conditions on the glaciers, closed one day in blizzard conditions with strong winds and the heavy snow, then the next it blows through and there's blue sky and perfect fresh snow. Then repeat. Two areas,
Hintertux
and
Stubai
, have had more than a metre of snow since Saturday and there's more in the forecast.
France
Although there's still only
Tignes
open in France, the country's slopes have seen some of the biggest snowfalls of the last week, really great news ahead of the start of the season.
Tignes has seen its conditions transformed and gone from having marginal snow cover that prevented it opening for three weeks last month to now reporting 1.8 metres (six feet) at the top of the Grande Motte glacier after 95cm (over three feet) of fresh snow to date, with more forecast.
Other French resorts aiming to open in late November or early December are looking good.
Alpe d'Huez
and
Val Thorens
, the latter due to open in just over a fortnight, had reported more than 80cm of snow by Tuesday evening.
Italy
Italy has seen its share of fresh snowfall too, heaviest in the west of the country, but
Livigno
reported more than two feet (60cm) of snowfall and further east into the Dolomites 20-40cm accumulations were reported. As nowhere is open there yet, not many are making measurements. However, conditions are greatly improved at the two open areas, Cervinia and
Val Senales
.
Two more areas look set to join them this weekend, Sulda in the south Tyrol and a third glacier area,
Presena
, near
Ponte di Legno
.
Switzerland
Swiss ski slopes have also been transformed, with yet-to-open resorts like St.Moritz posting images of deep snow in resort streets at the weekend. That said St Moritz DOES lay claim to one of the four Swiss glacier areas that are open,
Diavolezza
, which reported 40cm of fresh snowfall from the weekend storms and more since, plus more of the way.
Engelberg, Saas Fee and
Zermatt
are the other three Swiss areas open so far.
Andermatt,
Laax
and Verbier had delayed possible October openings due to inadequate snow cover. That has now changed and Andermatt say they'll be the fifth area to open, this coming weekend, with their Gemsstock slopes opening, however, Laax reported on Wednesday they would delay a further week as they are not liking the look of the stormy forecast for the coming weekend there.
Verbier have confirmed that they will open this coming Saturday (9th November).
Scandinavia
There are half a dozen ski areas open in Norway, Sweden and Finland with the number due to hit double figures this weekend. There have been no big snowfalls here but it has stayed cold, mostly, so snow-making systems have been going full blast to build bases and what's already there isn't thawing.
There has been a little fresh snowfall through the week too, but mostly in the 5-10cm range in total.
Beitostolen, Bjorli,
Kvitfjell
and Trysil are due to open in Norway this weekend along with
Hemavan
in Sweden. Areas that have been open a while already including
Ruka
and
Levi
(the next stop on the World cup tour in a few weeks) in Finland are constantly expanding the amount of terrain they have open now.
Pyrenees
The Pyrenees have had a healthy dump of snow from the recent storms with resorts on the French and Spanish sides as well as Andorra in the middle posting 20-40cm accumulations where they measured what has fallen.
Nowhere is open there yet but the snow is good news for when most plan to open in about three weeks.
One area that may open (it did on November 1st last year after a big end of October snowfall in 2018), Alp 2500 - shared by
Masella
and
La Molina
ski areas in Spain - looks like it might open this weekend, but there's been no confirmation as yet.
Scotland
Scotland is already showing signs of its usual roller-coaster weather patterns after snow cover from late October and early November was largely wiped out following a 20-degree jump in temperatures and torrential rain for three days and nights from Saturday to Monday. It's now back to mostly subzero and clear but with rain forecast on Saturday which could fall as snow up high.
Cairngorm has been using their all-weather snow-making system to make some early snow for snow play for visiting families.
Eastern Europe
Eastern Europe too is looking much whiter after fresh snow from the Czech Republic to Turkey (OK, the ski areas in Turkey are officially in Western Asia). Resorts in Bulgaria and Slovenia were amongst those posting their first decent snowfalls of the autumn. There are no reports of any opening so far, however.
North America
Canada
Two more ski areas opened in Canada at the weekend joining
Nakiska
after it's 'earliest ever opening' on the last weekend of October.
They were two more
Banff
resorts – the local ski hill of Mt Norquay and the big international resort
Lake Louise
– the latter opening a week early after good early snowfall conditions. The third Banff ski area, Sunshine, is due to open this weekend along with Marmot Basin near
Jasper
to the north.
It has got colder and there's even been a little natural snowfall in the East after an unseasonably warm October there but as yet no area is reported to have opened. It seems likely at least one will this weekend though with temperatures staying low and snow guns blasting.
USA
The US saw the biggest jump in numbers of ski areas open in the past week, going from four resorts in two states to 16 centres skiable in seven states at the weekend.
This makes the US the first country with the number of areas open in double figures so far this season. About a third of the new openings, in the Rockies, were due to the great snowfall in the region in October with more areas opening early including Monarch (earliest ever) and
Winter Park
.
There are now seven Colorado areas open already and it will be at least nine this weekend with Copper and Breckenridge set to join them.
The rest of the areas open have mostly done so thanks to snow-making as temperatures dipped in the East and Midwest. Killington in Vermont is the biggest name to open but Trollhaughen and
Tyrol Basin
have opened in Wisconsin,
Wild Mountain
in Minnesota and
Cataloochee
in North Carolina.
Back west, but also thanks to snow-making, Sipaou has started the 19-20 ski season in New Mexico.
Southern Hemisphere
With the start of meteorological summer less than a month away in the southern hemisphere the main 2019 ski season has been over for almost a month but one area is still opening in November, albeit just one T bar served run and only at weekends if the snow and the weather are good.
Whakapapa
on Mt Ruapehu in New Zealand reported great conditions last weekend.
It's not looking too shabby is it? Until next week... thanks for reading...