J2Ski Snow Report 3rd January 2019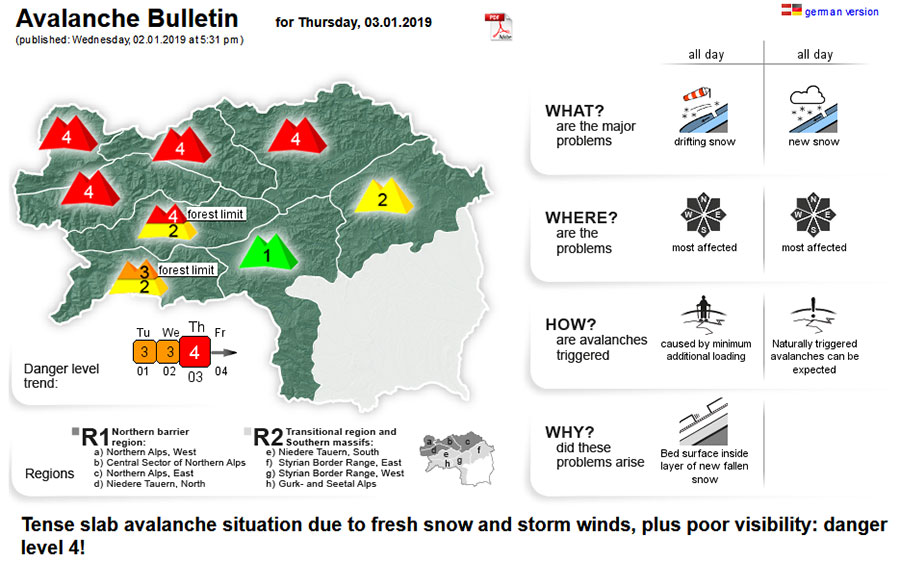 Heavy Snow means Avalanche Risk 4 (High), across much of Austria, including Steiermark today - see the full Avalanche Bulletin for more info.
Deep cold and heavy snow for Austria, clear skies for France... for now!
This Week's Snow Headlines - 3rd January 2019
- Austrian resorts report a metre of snowfall this week and up to 1.5 metres forecast.
- Almost no fresh snow in France, but a little in the forecast.
- Scotland sees double-digit Xmas and New Year temps but 3 areas open with snowmaking.
-
Andermatt
in Switzerland still posting world's deepest snow base at 4.5m (15 feet).
- Pyrenees still waiting for a good snowfall.
Snow cover and snow quality in the Alps is clearly divided at the moment along lines of altitude and geography; higher ski areas generally enjoyed a snowy start to the season, while lower villages were often warm and rainy.
Currently, there's a geographic divide with the East of the Alps and Eastern Europe seeing heavy snowfall, set to continue for at least the coming week, and the West and South not seeing any.
This equates to a couple of metres of snowfall (a metre already and more than a metre more forecast) at some resorts in Austria and Germany, none at all for most in France and Italy. But change is in sight!
Elsewhere the picture follows the weather split in the Alps to a large degree with no fresh snow and little if any forecast in the Dolomites and Pyrenees but a snowy week in Scandinavia.
Across the Atlantic it has been snowy in the north and west once again, but 'unseasonably warm' still at lower latitudes in the East.
In the Alpine Forecast
With snow - literally - piling into the eastern Alps (Austria in particular) this week, it looks as if the western Alps (France) may get a bit of a refresh at some point next week.
There's a lot of uncertainty regarding precipitation, where and when, at present but temperatures should be running cold (very cold at times) for the next couple of weeks with at least light snows quite widespread by the second week of January.

See where it's expected to snow this week...
Re-publication :- our Snow Report Summary, being the text above this line, is free to re-publish, but must be clearly credited to www.J2ski.com with text including "J2Ski Snow Report" linked to this page - thank you.
EUROPEAN ALPS
Austria
Austria has been both the snowiest spot in Europe over the past week and looks like it is set to be the same again over the coming week with forecasting models pointing to some big (metre-plus) accumulations for parts of the country.
Saalbach was one of Europe's five snowiest places over the past week reporting 80cm of snowfall, mostly since the weekend after a dry and sunny period after Christmas which was common across much of the Alps. However, again a common factor, the snow that falls is mostly boosting upper base depths with the resort still posting a 40-130cm base.
Most of Austria looks like it will stay snowy through the first 10 days at least of 2019 with accumulation forecasts ranging from 30cm in the
Arlberg
to over 1.5 metres, potentially, at resorts like
Filzmoos
and
Flachau
.
France
There's been no snowfall reported on French mountains this week, but still, most skiers are happy at the country's larger destination resorts as their high-altitude slopes received more November/December snow than in most of the past five autumns so almost all the slopes are open and on-piste conditions good - if a little hard in places.
The powder is, obviously, getting harder to find now. Lower slopes are not in good shape and valleys below 1500m are looking pretty green. That's a problem at some of the country's small, local ski hills, some of which are yet to open for the season. But snow depths for the major ski resorts are typically in the 1-2 metre range on upper slopes (
Serre Chevalier
is posting the deepest at 202cm) and the bigger resorts can push snow down pistes to the base where natural cover is limited so most have top to bottom skiing too.
Italy
The picture in Italy is very similar to France with only the Northeast of the country along the Austrian border reporting snowfall and again it's looking like a similar picture for the week ahead, although with perhaps a few centimetres of snow in the Dolomites.
Dry weather and lack of snow at lower levels are not causing many problems for the country's leading resorts thanks to good autumn snow accumulations at most areas in the west and snow-making in the Dolomites. In the Milky Way region (straddling the French border) all connections between resorts are now open, for example.
Madesimo
continues to post the deepest snow in the country of the major resorts at 2.5m, whilst the only areas posting significant snowfall (36cm in the past week) are
Speikboden
in the south Tyrol and
Valle Isarco
in the East. For most others it's 10cm or less.
Switzerland
Switzerland lies on the dividing line in the Alps between French and German-speaking regions (Italian too) and also last week and next week at least, in terms of weather fronts. There's been some snow; mostly on the Eastern side of the country.
Generally, conditions are clear and sunny with the most snow expected for the coming week in Easterly areas like
Davos
and
Samnaun
which may get as much as 30cm (a foot) of snow.
Scandinavia
A mostly snowy week in Scandinavia which has given lots of areas a boost. In fact, one small Western Norwegian ski area, Roldal, reported the most fresh snow in Europe over the past week – 105cm (3.5 feet) including 60cm (two feet) in the first 24 hours of 2019.
Elsewhere it has been more in the 5-20cm accumulation range in most cases which is a good fall by Scandinavian standards. Base depths across the region are generally in the 30-90cm bracket with most runs open and most lift's operating.
Pyrenees
Alas, there has been no new snow reported in the Pyrenees over the past week and there's also nothing forecast here for the week ahead so it's something of a holding pattern. Bases are not great at 20-50cm across the principality but none-the-less at least half of runs are open at each area so they are making the best of it.
Scotland
It's increasingly looking like a savvy move to buy all-weather snow-making systems at three of Scotland's five ski hills this winter as they've been able to operate at least some skiing through Christmas and New Year when the other two haven't as a mild December has left slopes fairly bare.
Glencoe
,
The Lecht
and Cairngorm are all open thanks to the machines,
Glenshee
and Nevis range are not offering snowsports. Temperatures have now dipped back below freezing and there was a little fresh natural snowfall on hilltops on New Year's Eve but it's now dry and temperatures are set to climb again before it rains.
Eastern Europe
Eastern Europe has been seeing some steady snowfall to start 2019 with resorts in the north – the Czech and Slovak Republics and Poland, issuing powder alarms for 20cm+ snowfalls in 24 hour periods and it's looking like it will stay snowy into next week with another 30cm expected by many at the weekend.
Further south (Slovenia, Bulgaria) has been less snowy but unlike on the Western side of the mountains there has been some snow to freshen up conditions, if more like 5-15cm here.
North America
Canada
After the snowy deluge in Western Canada up to Christmas things slowed down a little over New Year with most of the fresh snow falling in the past 48 hours reported on the eastern side in Quebec, where it is a bit of a relief after unseasonably warm weather in late December.
Mont Ste Anne, where the base had dropped to 90cm and Tremblant both reported more than 20cm of fresh snow.
However, things are about to turn very snowy again the west with areas in Alberta and BC likely to see 40-80cm and at
Whistler Blackcomb
potentially 1.8 metres (six feet) over the coming week!
USA
A mostly snowy week for most of Western North America although something of a re-set with ski areas in traditional ski states like Colorado, Utah and Wyoming posting the biggest accumulations, wrestling back the initiative from Washington state and others in the Pacific Northwest which had been posting the biggest numbers for much of December.
That said, Alpental in Washington still has the deepest base (323cm) and
Alyeska
in Alaska posted 76cm of snowfall in the last 72 hours, one of the biggest accumulations this week. On the east it has stayed 'unseasonably warm' in more southerly ski areas but is looking snowier further north into New England.
The week ahead looks fairly quiet with the biggest accumulations likely back in the West with potentially up to 50cm falling in California, although that forecast is a little long-term for the start of next week, so a little less certain than the (mostly dry) next 72 hours.