J2Ski Snow Report 6th December 2018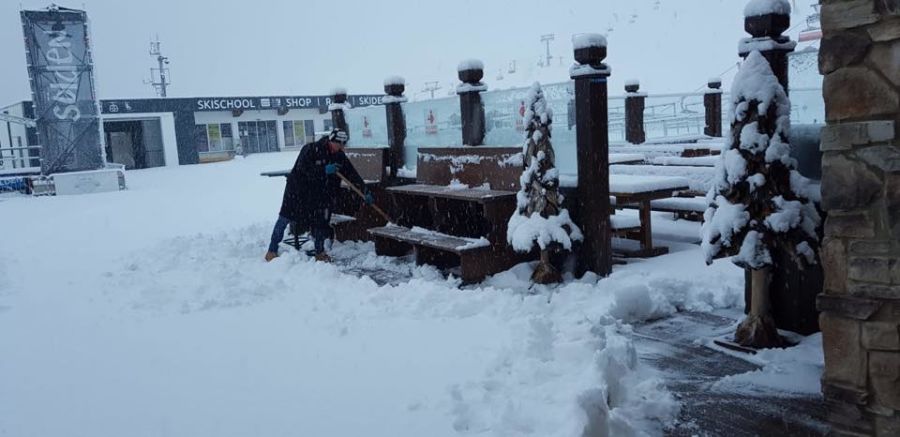 Solden, Austria, earlier this week
J2Ski Snow Report 6th December 2018
Mild weather giving way to cold and snow from the weekend.
This Week's Snow Headlines
-
Arlberg
, Andorra, Bulgaria, Scotland open for the season.
-
Breckenridge
passes 2.5m snow total before winter starts, most so early since 2010.
- Val d'Isere Women's Downhill Races Cancelled But Men's Get Go Ahead
- New Zealand ski area re-opens small area for first few weeks of summer.
-
Alpe d'Huez
,
Les Deux Alpes
and Montgenevre among resorts opened in France.
- Ski season begins in Bulgaria as
Bansko
opens for season.
- Scottish ski season gets underway at
Glencoe
and the Lecht thanks to snowmaking.
- Big snowfall forecast for French Alps from the weekend.
It's been a fairly typical mixed week for late November/early December weather in the Alps. There have been good signs for the winter ahead with more heavy snow on higher slopes and many more resorts opening – thanks in good part to machine-made snow building up bases, but also reminders of autumn – rain in the valleys and the cancellation of one of the early World Cup races in Val d'Isere, due to too little snow on the bottom of the race course.
But winter is most definitely on the cards for this coming weekend...
see below

The good news is that the week ahead looks to be getting colder and staying snowier so hopefully the variable autumn weather is giving way to a more consistently snowy winter as December begins. It's still at the edge of fully reliable forecasting but the coming weekend looks like areas including the French Tarentaise ski region should see a 10C drop in temperature by the end of Sunday and 'transformative' snow falls of 50cm+ are looking increasingly likely.
In any case there's certainly been a change in tempo with ski areas opening in Europe with several hundred smaller areas opening across the continent at the weekend, with wide-spread opening in Eastern Europe, the Pyrenees and Scandinavia. Even two centres in Scotland opened limited terrain thanks to new snow-making and despite a lack of the natural stuff.
Across the Pond the conditions are much more consistent and there have been more massive snowfalls in the west continuing one of the best starts to the season in 10 years in complete contrast to last winter. Base depths are now above the metre mark even at resort level in several states and the snow is good across much of the continent – the only exception being the far northwest of Washington State, Western BC and Alaska where its been a bit too warm to date.
Perhaps the most novel snow news of the week is that the New Zealand ski area of
Cardrona
re-opened a small snowy area at the top of its slopes for snowsports on what was the first day of meteorological summertime in the southern hemisphere last Saturday, December 1st. New Zealand and Australian resorts both got an unseasonal 10cm of snow a fortnight ago and this was used as the basis for the 'snow fun' area which offers tubing, a beginners' slope and terrain park features. They say it will stay open as long as the snow lasts – estimating that'll be two weeks!

See where it's expected to snow this week...
Re-publication :- our Snow Report Summary, being the text above this line, is free to re-publish, but must be clearly credited to www.J2ski.com with text including "J2Ski Snow Report" linked to this page - thank you.
EUROPEAN ALPS
Austria
More than 40 Austrian ski areas have now opened although the vast majority have 0-20cm at the base of the mountain and just 20-50cm up top so it's very much 'early season' conditions. Most of the snow this week (and there's not been much) has been in the Otztal with Obergurgl and Solden reporting about 20cm of fresh each. These two are also posting the deepest snow on upper slopes in the country with 212cm and 160cm respectively and Solden also has the most terrain open with 106km of runs – the first Austrian resort to offer more than 100km of runs – about 75% of its total.
France
As usual far fewer French resorts have opened so far than in each of Austria, Italy and Switzerland, with the total French 'resorts open' figure still (if you exclude weekend openers) in single figures – until this coming weekend at least. Montgenevre, one of those that started their 18-19 season last weekend, has immediately posted the country's most impressive snow total stats to date at 45-100cm. There are about a dozen runs open there so far. Most of the other areas open have 0-30cm on lower runs, 30-70cm up top and just a handful of runs open. It has been raining at lower elevations this week with a little snow up top (
Tignes
reported 7cm on Monday) but conditions are set to get colder and snowier over the coming days.
Italy
Lots of Italian ski areas from the Milky Way region in the west to the
Dolomiti Superski
area further east opened at the weekend. As in France most of these areas so far have limited terrain open and fairly thin cover but Dolomiti Superski managed to put together a collective 150km of runs at the weekend (its opening weekend) with several individual sectors such as Kronplatz offering more than 40km of runs. It's promising much more this weekend. The Cervinia ski area (linked to
Zermatt
in Switzerland) remains the stand-out area for the early season with more than 200km of runs open at the weekend, 55-245cm base and over 35cm of fresh snowfall in the past few days.
Switzerland
Swiss resorts are reporting the deepest snow in the world, the most fresh snow in the Alps in the past few days and the most terrain so far open for the season at a single resort. But still, as with the rest of the Alps, things are not quite perfect as the latest snow has been falling up high and even there, rather heavy stuff, with rain in lower valleys, so the usual social media response to 50cm of fresh snow has been rather mooted so far. The snow is expected to keep falling through the weekend though so conditions should continue to improve. Ski areas in the 4 Valleys are reporting the snow lying more than 3.7 metres deep on upper slopes whilst resorts like
Samnaun
and
Grimentz
have had more than 30cm of snow to start the week and Zermatt said it had more than 200km of runs open at the weekend (including linked terrain at Cervinia).
Scandinavia
Scandinavian resorts have actually posted some of the biggest snowfalls of the past 7 days with
Geilo
in Norway reporting 80cm and Roldal to the north 40cm. Conditions have definitely turned colder with many more areas opening last weekend and the continent's biggest, Are in Sweden, set to join them from this coming Friday.
Pyrenees
It was the big opening weekend last weekend in the Pyrenees with almost all Spanish ski areas, along with all the Andorran ski areas and several French Pyrenean resorts opening for the season. On the Spanish side there's some urgency with a major holiday weekend coming up, which like thanksgiving at the end of November in the US, can be a good boost to ski areas as the season starts IF conditions are good. This December they're definitely pretty good, most areas have a 20 or 30 -50 or 60cm snow level with 5 – 30 runs open. The stand out though is
Sierra Nevada
to the south with more than 70 runs open and a 20-150cm base already.
Scotland
The ski season started at the weekend in Scotland despite warm weather and little or no natural snowfall thanks to the investment in all-weather snow-making machines at Glencoe and the Lecht which allowed both to open snow areas a few hundred metres long for lessons and snow fun. Glencoe is open daily with
The Lecht
currently just opening at weekends.

Eastern Europe
Ski areas have opened across Eastern Europe over the weekend with dozens of ski centres in Slovenia, Bulgaria, the Slovak and Czech Republics, Poland, Romania and Serbia now open – almost all reporting no snow cover at resort level but 50-60cm – a mixture of machine made and natural snowfall in most cases – up top, with higher runs open. The only other country reporting snow in the valleys too is Poland where most open areas have 20-30cm on lower runs too. At most Eastern European ski areas only a handful of runs are open so far though.
North America
Canada
It's still something of a mixed picture in Canada with some resorts in Quebec in the East reporting their best opening conditions for a decade or more whilst in the west there's a bit of a struggle with on-going warm temperatures. In the south Okanagan area of British Columbia two ski areas,
Mt Baldy
and Apex, have announced they're delaying their scheduled openings as its too warm, but at Quebec in the east
Mont Sutton
has opened with top to bottom skiing after a 60cm snowfall. Whistler appears to be struggling a bit with 18cm up top but only 13 of its 234 runs reported open.
Revelstoke
in BC has the country's deepest base so far though at 117cm.
USA
There have been more astonishingly big snowfalls in the US through the past week with Utah taking the top three snowfall tally results led by snowbird with 125cm (over four feet) of fresh snow in the past week. Resorts in California, Colorado and Wyoming have also posted big numbers and bases are now building whilst the snow is staying powdery.
It's all looking ever better for the season ahead and very different to a year ago. The snow is also lying deep already in the Midwest and on the East coast, where it hasn't snowed so much this week but earlier accumulations are still looking good. Only the far Northwest seems to be getting a slow start with Mt Baker in Washington State, famed for having the world's highest annual average snowfall and the all time seasonal snowfall record has been unable to open so far for lack of snow cover. It says its current base is 35cm, not enough, but snowier weather is expected from the weekend there too, they're hoping.