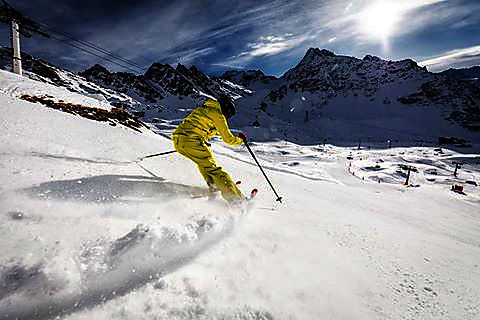 A growing list of leading ski resorts have announced they're opening early for the 2016-17 season as a result of the promising snowfall of the past week.
Snow has been falling all week in many ski areas in Europe with several feet accumulating at some areas. There's been powder conditions at the 20 or so centres already open.
Courchevel
will open today (Friday 12th November) for a 'preview day' and will run its lifts free of charge today only. The resort said yesterday afternoon that it expects 30cm of snow to have fallen in the 24 hours to this morning so warned those arriving by car to ensure they have chains with them.
Verbier
(pictured above earlier this week) is also opening today.
Also opening are
Alpe d'Huez
,
Hemsedal
in Norway, Levi in Finland and
Engelberg
in Switerland whist two smaller centres have opened down in Italy in the Dolomiti Superski region.
Alpe d'Huez will open parts of its ski area this weekend, three weeks in advance of the original date, Saturday 3rd December. It will also open on the weekends of 19-20th November and 26–27th November. Three slopes will be open covering more than 5km between 2700m and 1800m, totalling a height difference of 900m.
"The snow conditions are excellent. It's rare that we have such great conditions in order to open as early as this." said Francois Badjily, Director of the Tourist Office.
Verbier's Lac des Vaux sector will be welcoming skiers from today and the resort says every weekend in November with the rest of the area will open gradually, snow conditions permitting.
In other already open ski area news, the year round ski area at
Zermatt
will open further terrain this weekend. The resort says that on top of its minimum 21 kilometres of ski pistes another 9 kilometres of slopes will open this weekend which, along with 8.5 kilometres in the Cervinia ski area means that from this weekend onwards there'll be over 38 kilometres of open slopes.
Val Thorens isn't opening this weekend but will be opening a week early, next weekend. The resort says "massive snowfalls" mean the snow is currently 63cm deep in the resort and 130cm at the top of the slopes which, combined with the cold temperatures, will allow the resort to open 70% of its lifts from 19 November to ski until 1st May.
Frédéric Bonnevie, the director of the snow patrol team of Europe's highest resort, has had his team ready for action since October:
"Val Thorens has always been able to adapt to weather condition to open early when possible. And the 2016-17 season is starting well! We are preparing the ski area to open on 19 November with 70cm of snow on the slopes and an access to 3 summits at 3,000m."
Whilst it is still too early to be confident of a good start to the main season from the end of November this is already the most promising mid-autumn snowfall for several years and comes after two particularly warm dry autumns which extended in to early winter over the past two seasons.
Across the Atlantic,
Mammoth Mountain
in California and Loveland in Colorado opened yesterday, however the latter in particular has been aiming to open for a month, battling warm weather in Colorado, where
Breckenridge
, Copper and
Keystone
were also supposed to have opened this weekend but have delayed doing so.